It is with great pleasure we announce and welcome our new faculty members. Each new faculty member introduces an added level of experience, quality, and service to the Department of Surgery.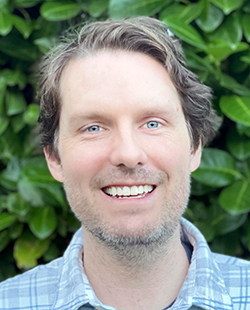 Austin J. Baird, PhD, Research Assistant Professor, Division of Healthcare Simulation Science
Dr. Baird received his PhD in applied mathematics as it relates to heart tube electrophysiology and fluid dynamic modeling at the University of North Carolina, Chapel Hill. At his post doc training at Duke University he worked with Dr. Anita Layton on physiological modeling of the kidney, specifically how the reabsorptive and autoregulatory mechanism change as a function of venous return pressure abnormalities. At UNC Dr. Baird was an HHMI and future faculty scholar and was responsible for creating a new curriculum on dynamical systems modeling for non-math majors. At Duke he taught multiple courses on differential equations in the engineering department. He then left academia to work in industry at Applied Research Associates where he was the PI of the BioGears project for 4 years.
At ARA Dr. Baird was the PI on multiple DoD funded medical modeling and simulation grants and contracts related to burncare, TBI modeling and prolonged field care training. His team was awarded the federal IT innovation award for their work on the BioGears project. At ARA he was promoted to Senior Engineer and was denoted a distinguished member of the technical staff. He eventually became the biomedical engineering, modeling, and applications (BEMA) group leader where he oversaw and created a vision for biomedical work at the southeast division of the company. At ARA he co-led the internship program and was responsible for ARA's involvement in the Google Summer Code project. Interns who he advised now work at General Motors and Becton Dickerson as engineers.
Dr. Baird's research focuses on mathematical modeling of biological systems, specifically mathematical models in physiology in the context of whole-body patient responses. He aims to connect multiple spatial and time scales which determine dynamics of biological systems at the molecular and system levels to create a picture of the larger patient response to injury. His work also focuses on carful validation of biological systems, specifically their response to perturbations such as trauma and the problem of connecting experimental data to computational models. He believes in cross disciplinary collaborations and aims to nurture those groups at UW.
Austin is on the leadership circle in the healthcare systems modeling and simulation affinity group, part of the Society of Simulation in Healthcare (SSH). He's an active member of the Society of Industrial and Applied Mathematics (SIAM) and the NIH multiscale modeling group.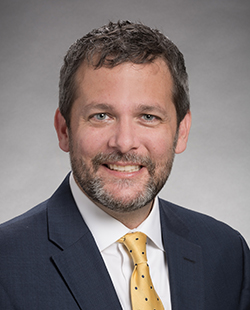 Scott Brakenridge, MD, Associate Professor, Division of Trauma, Burn & Critical Care Surgery
Dr. Brakenridge returns to UW as an Associate Professor of Surgery in the Division of Trauma, Burn & Critical Care Surgery. Born and raised in Chicago, Dr. Brakenridge earned his medical degree from Rush Medical College in 2004. He then completed his general surgery residency at UT Southwestern/Parkland Memorial Hospital where he also was a Clinical Research Scholar in the Department of Clinical Sciences. After completing a Trauma/Surgical Critical Care fellowship at Harborview Medical Center, Dr. Brakenridge was a faculty member at the University of Florida, where he was an active acute care surgeon and surgical intensivist, tenured investigator and center Core Leader for the National Institutes of Health (NIH) funded UF Sepsis and Critical Illness Research Center (SCIRC). Since 2014, Dr. Brakenridge's research has been funded by the NIH, and he was recently granted an R35 award from National Institute of General Medical Sciences to continue his research program on clinical, translational, and precision medicine approaches to understand the role of persistent inflammation as a driver of chronic immunosuppression and acute muscle wasting after severe trauma and surgical sepsis. Outside of work, Dr. Brakenridge enjoys all outdoor activities with his wife, Jillianne, and two sons Bryce (8) and Ryan (3).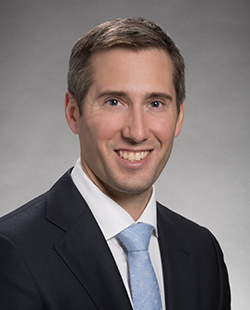 Scott DeRoo, MD, Assistant Professor, Division of Cardiothoracic Surgery
Dr. DeRoo attended Colgate University in upstate New York where he completed his undergraduate degree in molecular biology and was a three-season athlete competing in both cross-country and track and field. After completing his undergraduate degree, Dr. DeRoo spent a year at the Dana-Farber Cancer Institute investigating the molecular pathogenesis of leukemia and lymphoma before matriculating to the University of Michigan Medical School. While there he completed a research fellowship through the Howard-Hughes Medical Institute with a focus on genetics and genomics and was elected to the Alpha Omega Alpha Honor Medical Society. Following medical school graduation, Dr. DeRoo completed an integrated cardiothoracic surgery residency at Columbia University in New York City, while also pursuing a one-year research fellowship in outcomes research. Upon completion of his residency, he spent a year at the University of Pennsylvania as an advanced fellow in aortic surgery where he focused on both open and endovascular treatment of complex aortic disease including pathology of the aortic root, valve, ascending aorta, arch, and descending thoracic aorta. Dr. DeRoo is excited to join the faculty at UW and help expand both the general cardiac and aortic surgery programs. Outside of the hospital Dr. DeRoo enjoys spending time camping, hiking, cycling, and skiing, and is excited to explore the Pacific Northwest. He is joined at UW with his wife, Dr. Emily Wang, a cardiac anesthesiologist.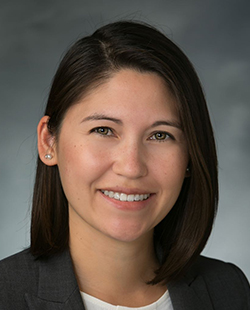 Christina Greene, MD, Assistant Professor, Division of cardiothoracic Surgery
Dr. Greene is a congenital heart surgeon joining UW from Boston Children's Hospital. Originally from Los Angeles, CA, she completed her undergraduate studies at Massachusetts Institute of Technology in Boston, then returned home for medical school at the Keck School of Medicine at the University of Southern California. She remained in California for general surgery residency at LAC+USC, then during her research years transferred to Stanford University's I-6 Cardiac program which she completed in 2019. She continued to Boston Children's Hospital to train with Dr. Pedro del Nido for her congenital fellowship from 2019-2021 immediately prior to joining us.
Dr. Greene's research interests center around the genetics of congenital heart disease with a focus on growing human tissue. She will be starting a cardiac tissue bank at Seattle Children's Hospital (SCH) with many opportunities for translational research. Dr. Greene plans to practice the full breadth of congenital heart surgery and hopes to establish a biventricular repair program at SCH. She is very excited to join her new partners and explore the Pacific Northwest. Dr. Greene joins us with her husband, Andy, and their two young daughters, Quinn and Callie.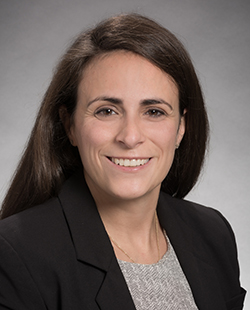 Rachel Lentz, MD, MHS, Assistant Professor, Division of Plastic Surgery
Dr. Lentz is excited to join the Division of Plastic and Reconstructive Surgery at the University of Washington. Originally from New Jersey, she received her bachelor's degree in the History of Science and Medicine at Yale University, where she was also a member of the varsity field hockey team. She remained at Yale for medical school, earning her medical degree and master's degree in Health Science. Dr. Lentz then completed an integrated plastic surgery residency at the University of California, San Francisco, followed by a microsurgery fellowship at the University of Southern California.
Dr. Lentz's primary clinical interests include oncologic and traumatic reconstruction, limb salvage, and the surgical management of lymphedema.
Outside of work, Dr. Lentz enjoys running, cooking, podcasts, and exploring the Pacific Northwest with her partner, Sean.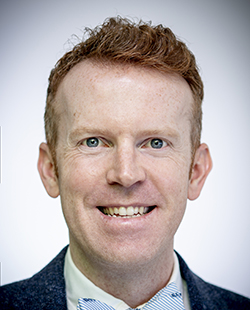 Shane Morrison, MD, MS, Assistant Professor, Division of Plastic Surgery
Dr. Morrison is a plastic and reconstructive surgeon with specialized training in gender affirmation surgery. He grew up in Tucson, Arizona where he completed his undergraduate and master's degree in Biochemistry at the University of Arizona. Prior to medical school, Dr. Morrison explored protein engineering research in Switzerland as a Fulbright Scholar. During his six years in medical school at Stanford, Dr. Morrison studied wound healing as a Howard Hughes Medical Institute Medical Research Fellow and worked on healthcare policy in Kosovo as a Boren Fellow. It was in medical school where his passion for "surgical justice" and gender affirmation arose. He completed his plastic surgery residency at the University of Washington and did further specialized training in gender affirmation surgery at the University of Michigan and Ghent University Hospital in Belgium. Dr. Morrison is excited to offer gender-affirming surgery to the adolescent and adult populations in the Pacific Northwest. His research interests are in surgical and patient-reported outcomes in gender-affirming surgery.
Outside of work you can find him and his wife, Dr. Kathleen Berfield, on their Peloton, gardening, or lounging with their cats.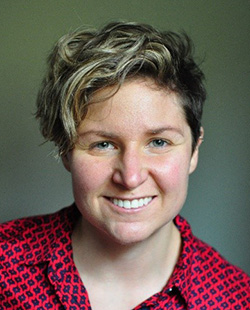 Victoria Roach, PhD, Research Assistant Professor, Division of Healthcare Simulation Science
Dr. Roach joined the Division of Healthcare Simulation Science at The University of Washington as a Research Assistant Professor in 2021. Dr. Roach is a medical education researcher, with a focus on the Human Factors that govern learning and performance in simulation.
Dr. Roach received her PhD in Anatomy and Cell Biology from The University of Western Ontario. Her dissertation sought to determine if eye movements could serve as an indicator of success in spatial reasoning, and if eye movements associated with successful completion could be applied to strategically train spatial reasoning.
Over the course of her academic career, Dr. Roach has led and lectured in graduate and undergraduate courses in anatomy, histology and research, in both online, and face to face formats. Dr. Roach has also served as a Program Director for the Embark Scholarly Concentration Program at Oakland University William Beaumont School of Medicine and has served as a primary research supervisor for twelve medical students, two graduate students, and three surgical residents.
In the context of research, Dr. Roach aims to leverage human factors science to support the cognitive and physical work of professionals and trainees, in an effort to optimize training, working and receiving care in the healthcare setting. Dr. Roach's research focuses on four domains of human factors science, each of which impact individual and team performance, as well as learning. These domains include Physical Considerations (such as environmental design and layout, equipment design, information displays), Cognitive Considerations (including learning, memory, judgment, decision making, and cognitive workload), Emotional/Motivational Considerations (including burnout, and stress), and Sociocultural Considerations (including teamwork, communication, production pressure, and the interactions between healthcare workers, and their environment).
Dr. Roach has a special interest in professional development in higher education. She presently serves as the Chair of the Committee for Early Career Anatomists, an active subcommittee of the American Association for Anatomy. She is a member of the American Association for Anatomy (AAA), the Association for Surgical Education (ASE), an Affiliate Member of the American College of Surgeons (ACS), and a member of the Society for Simulation in Healthcare (SSH).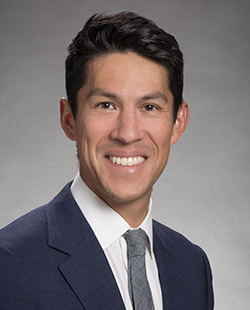 Isaac Stein, MD, Assistant Professor, Division of Plastic Surgery
Dr. Stein is a plastic and reconstructive surgeon with a clinical focus on oncologic reconstruction of the breast, trunk, and extremities. He is excited to join the excellent team of reconstructive surgeons at UW-Montlake and UW-Northwest campuses.
Dr. Stein grew up in Kalamazoo, MI, and remained in the Midwest to attend college at Washington University in St. Louis. A keen interest in science and a love of developing interpersonal relationships brought him back home to the University of Michigan for medical school, where he developed a passion for the complex problems solved by plastic surgeons. Dr. Stein then came to the University of Washington for plastic surgery residency and has called Seattle home ever since. He is looking forward to remaining in the UW family and collaborating with other surgical services to offer excellent patient care to the growing and changing patient population. As a former UW resident, he hopes to be an integral part of resident education and continue the tradition of excellence for the next generation of trainees.
When not working, Dr. Stein enjoys everything the beautiful Pacific Northwest has to offer with his wife, Emily, husky, Pippa, and their friends.