CERTAIN Patient Advisory Network launches new web portal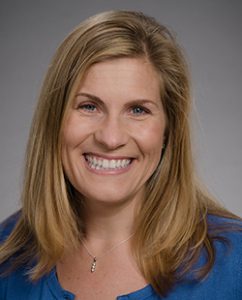 The CERTAIN Patient Advisory Network is proud to announce the launch of our new web portal, InspireResearch.org. This marks the final step of our Patient-Centered Outcomes Research Institute-funded engagement award, Initiative to Support Patient Involvement in Research (INSPIRE), which was led by Dept. of Surgery faculty Danielle Lavallee (pictured right).
The portal is an online library of resources is designed for patients and researchers partnering on patient-centered outcomes research (PCOR), healthcare studies that actively engage patients in the research process from start to finish. It includes resources for patients and researchers to use together, as well as those specific to each group. We hope this portal will be a valuable tool for accessing existing resources for the PCOR community.
Features include:
The ability to search for resources by keyword, resource type, topic, audience and condition
A "Suggest a Resource" feature that allows you to submit a resource for inclusion in the portal
A "Rate it now" feature that allows you to share your thoughts with other patients, researchers and community members by submitting a star rating and written review on each resource you use
We encourage you to share InspireResearch.org with your networks of organizations and individuals who are involved or interested in patient-researcher partnerships.
About INSPIRE
Patients and caregivers are gaining momentum as powerful new resources in efforts to improve the healthcare system. They are increasingly becoming active partners not only in their own care, but also in planning and guiding research.
Being a research partner goes beyond being the subject of a trial. Rather, it means helping to guide researchers in what questions should be studied and ensuring that studies focus on the outcomes important to patients. The goal of these patient-researcher partnerships is to create high quality research that is accessible to people making healthcare decisions.
CERTAIN's Initiative to Support Patient Involvement in Research (INSPIRE) project was funded by the Patient-Centered Outcomes Research Institute to facilitate training, support and networking for these types of collaborative studies, called patient-centered outcomes research (PCOR). This 4-phase project gathered information on the experiences and needs of patients and researchers actively partnering on research projects across the Pacific Northwest region of the United States. This information was then used to develop tools such as this portal as well as resources and best practices to support future successful collaborative efforts.
About the CERTAIN Patient Advisory Network
CERTAIN's Patient Advisory Network brings together patients, caregivers, and family members who are interested in helping doctors and scientists make research better and more useful to patients. Patient Advisors partner with researchers to provide the patient perspective to inform and improve research being done.