Dr. Kristine Calhoun Receives 2020 UW School of Medicine Award for Excellence in Mentoring Women Faculty
Wednesday, December 16, 2020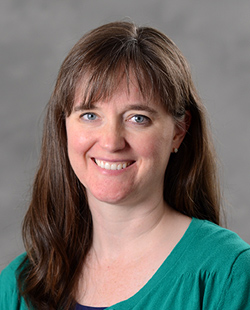 Dr. Kristine Calhoun, Associate Professor, Division of General Surgery, received the 2020 UW School of Medicine Award for Excellence in Mentoring Women Faculty.
"I was absolutely shocked that I was not only nominated for this award but that I actually was awarded it. There are so many fantastic mentors throughout our department, as well as the School of Medicine in general, that I am humbled to have been singled out," said Dr. Calhoun. "Mentoring is something that I place high value on—I have been the recipient of excellent mentoring in my own career and make it a priority to give back to those earlier in theirs which makes this award so meaningful. It was humbling to read the letters of support and see my impact on others but so, so gratifying. Awards like this that look at mentoring and teaching are special to me and mean that I am accomplishing the goals I set for myself when I joined an academic practice. I am so, so thankful, grateful and appreciative."
Comments from Dr. Calhoun's award nomination letters:
"I have had the privilege of frequently witnessing Dr. Calhoun's mentorship and leadership in supporting women in our department and more broadly in UW Medicine. She has clearly gained the trust of students, residents, and junior colleagues. Kris has come to me several times to have a quiet conversation about a struggle someone has shared with her, and I have seen her spend time listening, counseling, and then advocating to solve a problem, or to help a junior voice be heard. I have witnessed Kris in these situations and she serves as a quiet advocate who helps burnish confidence in those leaning on her, but without emphasizing her own voice. This is a remarkable skill that serves the women in our department well, and with Kris providing quiet strength and support that builds the confidence and stature of her mentees, without expectation of reward or recognition. Surgery has a tradition of being a specialty that is not welcoming to women and has a culture that can be a barrier to faculty development. Kris has been a foundation of our efforts to move the culture of the Department of Surgery (DOS) to become one that is an outstanding place to develop a successful career with a life balance that supports people of all genders to achieve their full potential, not just as surgeons, but as well-rounded and happy people."
Douglas E. Wood, MD, FACS, FRCSEd
The Henry N. Harkins Professor and Chair
Department of Surgery
"As a general surgery resident at the University of Washington (UW) who expressed an interest in pursuing breast surgery, she took me under her wing without my even needing to ask. She gave me advice on which societies to join and how to complete projects and get published within my two research years. When I was applying for fellowship, she constantly checked in with me for updates about the process, asking who she could contact on my behalf. I have no doubt that she helped me get into the program of my choice at Memorial Sloan Kettering Cancer Center, which is one of the top two programs in the country.
After my fellowship I returned to the UW as a faculty member, largely because I knew my breast surgical colleagues would support my career growth more than anywhere else I interviewed. Since my return, Kris has continued her mentorship and sponsorship of me on so many levels. She is my go-to whenever I have a difficult case and need clinical advice. She has provided me with endless advice as I work to grow the breast surgery program at UWMC-Northwest. Within my first year on faculty she gave me her National Comprehensive Cancer Network Breast Cancer Screening and Diagnosis panel seat, which is an amazing honor to be so junior on such an important committee. Her dedication to my career growth has only been surpassed by her constant support of my personal life. Without prompting she ensured that I knew all the options I had with respect to my recent maternity leave, and communicated with our senior administrators about the importance of having time for lactation when a new initiative to improve OR efficiency threatened my ability to pump between cases. On top of all of this she is a single mom to two amazing and wonderful boys, a breast cancer expert, the chair of the Department of Surgery Women's Council, and is the Director of the medical student surgery clerkship. I truly do not know how she does it all. It's amazing that even though her star shines so brightly, it doesn't dim others but serves to help illuminate the whole sky."
Meghan R. Flanagan, MD, MPH
Assistant Professor
Department of Surgery
"Dr. Calhoun is first and foremost an advocate for women physicians within the DOS. Several years ago, our chair, Dr. Douglas E. Wood, initiated the formation of a Women's Council and Dr. Calhoun was selected as the leader of this council. She has continued to serve in this respect for the past several years and as such, has solidified her role as a leader in surgery for the women in our department. I have had the privilege to work with Dr. Calhoun first as a surgical trainee in this residency program. In my past four years as a faculty member, I have worked alongside her on the Women's Council as her "second in command." Dr. Calhoun has always treated me as an equal, despite an obvious difference in our professional tenure. She truly values the opinion of others around her and works diligently to ensure that she is thoughtful about each and every decision, keeping in mind what is best for the greater good. She NEVER thinks of herself first and has NEVER made a decision that is self-serving. In this same vein, she is always available to anyone for private consultation or advice on any issue. I personally go to her quite frequently for advice on navigating delicate situations involving the hierarchy of the DOS as a junior woman faculty member. She is one of my most trusted allies in our department and her advice is invaluable. She has weathered many difficult situations and continues to put others needs before her own on a daily basis, always making time for students, residents and junior faculty who knock at her door."
Nicole K. Zern MD, FACS
Assistant Professor
Department of Surgery
"We have worked closely with Dr. Calhoun in clinical settings and on various activities with the DOS Women's Council over the past 3.5 years. Our cumulative experiences with Dr. Calhoun have shown she is an outstanding clinician-educator and provides leadership in her many roles all with patience, persistence and as an advocate. Dr. Calhoun is an excellent clinician and role model in the operating room where she mentors 30-40 resident surgeons per year (half of whom are women) as we develop our surgical skills. She is patient, yet firm and is a shining example of how to effectively lead an operating room team as a woman surgeon. Outside of clinical duties, she mentors and leads the UW DOS female faculty as the Chair of the DOS Women's Council. She has successfully advocated for development of lactation stations for operating room personnel, has instituted the annual Women's Council sponsored Grand Rounds, and led numerous research projects examining the role of gender in trainee education and for academic surgeons. She also encouraged us and fully supported forming the DOS Resident Women's Council, which works directly with the faculty women's council on joint projects. Through these various endeavors, she has worked hand-in-hand with women faculty and trainees, uplifting and educating along the way.
Last but not least, Dr. Calhoun has been a pillar of support for us as young women surgeons in the least glamorous and stickiest of situations. She provided full guidance and support when addressing workplace gender equity issues from processing our thoughts to being present with us for challenging meetings. Dr. Calhoun's mentorship in those quiet, intimidating moments demonstrate the depths of her commitment and compassion as a mentor.
Dr. Calhoun has served as a mentor to innumerable women faculty, residents and medical students and is most deserving of the Award for Excellence to honor the key role she has played for many of us within the Department of Surgery. Her leadership has affected so many of us positively and continues to be a strong force within our department of equity and advocacy for current and future female surgeons."
Kajal Mehta, MD, MPH
General Surgery, Research Resident
Department of Surgery Resident Women's Council
Mohini Dasari, MD, MS
General Surgery R4
Chair, Department of Surgery Resident Women's Council
"I had the privilege of working with Dr. Calhoun in my final year of medical school when I unexpectedly fell in love with surgery. It was a very challenging and confusing time for a fresh MS4 who had saturated her fourth year with non-surgery electives, but Dr. Calhoun served as a guiding light through it all. Not only was she knowledgeable and informative, she was endlessly supportive and encouraging. I would catch her responding to emails well past midnight, answering my questions and reviewing my rank list. This is just one of the many ways Dr. Calhoun shows up for her students. She is truly deserving of this award and I sincerely hope you will strongly consider her for this award."
Annie Yang, MD
General Surgery R1
Previous Department of Surgery UW School of Medicine Excellence in Mentoring Women Faculty Awardees:
2018 Lorrie Langdale, MD, Professor & Chief, Section of General Surgery, Division of VA Healthcare
2014 Ron Maier, MD, Professor & Chief, Division of Trauma, Burn & Critical Care