Dr. Michael S. Mulligan Named New Chief of the Division of Cardiothoracic Surgery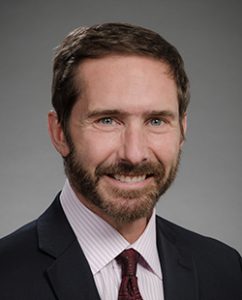 "I am very pleased to announce that Dr. Mike Mulligan will take over as the new Chief of the Division of Cardiothoracic Surgery, effective April 1, 2017. Dr. Mulligan has spent his whole career on the faculty here at UW, first being recruited to lead the lung transplant program, and for the past 6 years serving as Chief of the Section of General Thoracic Surgery. He is a master clinical surgeon with expertise in the surgical management of end-stage lung disease including pulmonary thromboendarterectomy, lung volume reduction surgery, and lung transplantation. He has established the second VA lung transplant program, serving our veterans with lung disease, and established and leads the adult ECMO program at UWMC.
Dr. Mulligan is also an established surgeon scientist, with an NIH funded basic science lab that has conducted important research on lung ischemia reperfusion and lung allograft dysfunction. He has served in a number of important leadership roles inside UW, as well as nationally and internationally. Dr. Mulligan was elected to serve as an At-Large Member of the UWP Board. He leads the Minimally Invasive Thoracic Surgery Program and the Cardiothoracic Surgery Research Program and serves on numerous committees for UWMC and UW Medicine. He has served as the Region 6 Councilor for UNOS, Chair of repeating Critical Care Symposiums at STS and AATS, and recently was elected and served as President of the Western Thoracic Surgical Association. He is a nationally and internationally recognized leader in cardiothoracic surgery and has committed his whole career to elevating the care of patients with cardiothoracic disease at UW Medicine.
We are very fortunate to have him accept this important role to lead our cardiothoracic division. Please join me in congratulating Dr. Mulligan and welcoming him to this new leadership role."
Douglas E. Wood, MD, FACS, FRCSEd
The Henry N. Harkins Professor and Chair
Department of Surgery
University of Washington