Drs. Kate Stadeli and Jay Zhu Selected for ACGME BacktoBedside Initiative Funding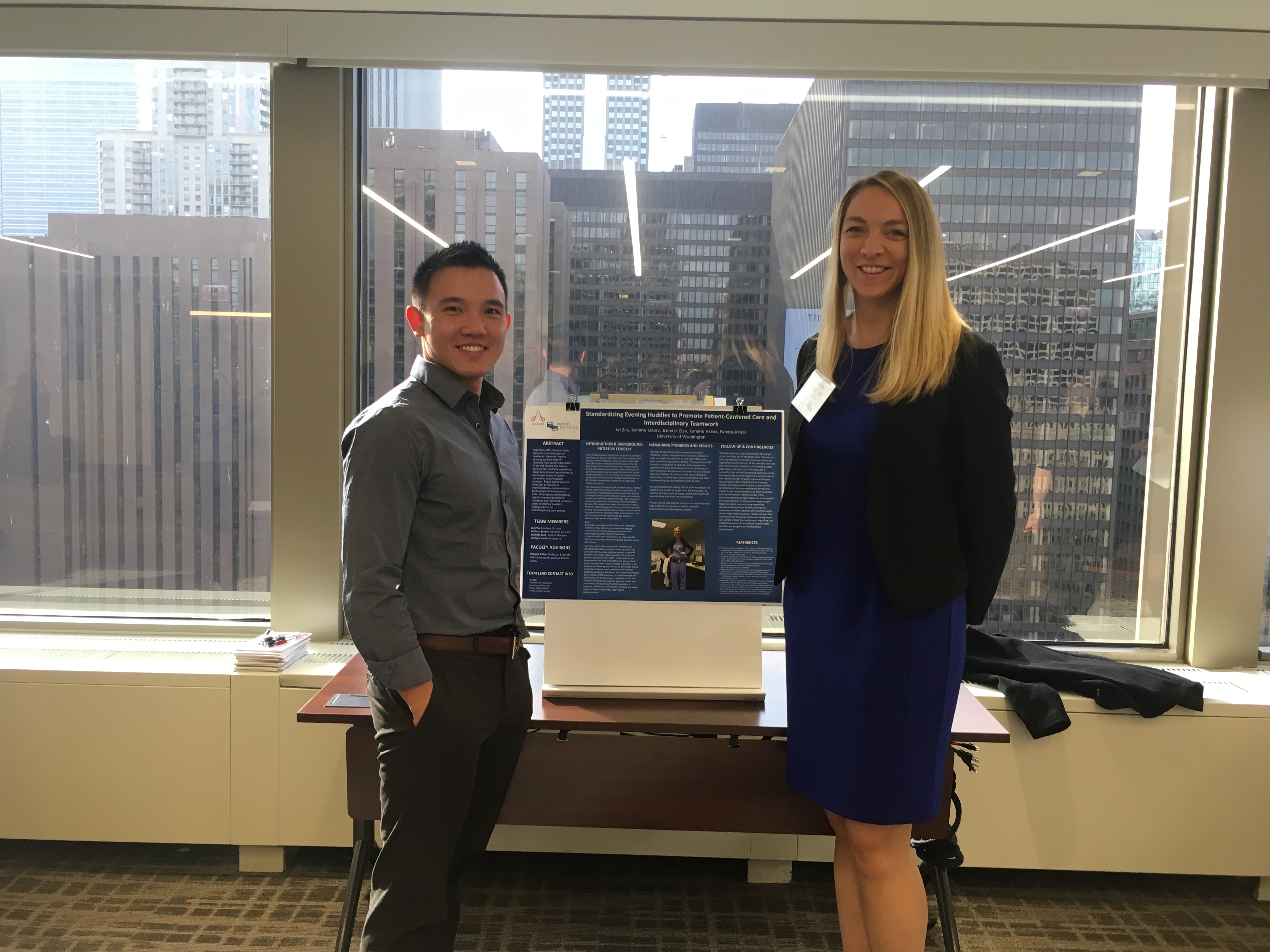 Drs. Kate Stadeli (pictured right) and Jay Zhu (pictured left), research residents in the Division of General Surgery, have been selected for Accreditation Council for Graduate Medical Education (ACGME) BacktoBedside Initiative Funding. The ACGME Council of Review Committee Residents (CRCR) designed the "BacktoBedside" initiative to empower residents and fellows to develop transformative projects that combat burnout by fostering meaning in their learning environments and engaging on a deeper level with what is at the heart of medicine: their patients.
The application process was highly competitive with the ACGME receiving over 200 proposals and awarding 30 grants at various funding levels. Proposals focused on ideas such as creating opportunities for more time engaged in direct, meaningful patient care; developing shared sense of teamwork and respect among colleagues; decreasing effort spent on non-clinical, administrative responsibilities; and increasing patient satisfaction through more meaningful time with their care delivery team.
Drs. Stadeli's and Zhu's project, titled "Standardizing Evening Bedside Huddles To Promote Patient-Centered Care and Inter-Disciplinary Teamwork," focused on night float rotations, which can be very difficult and isolating experiences for residents. A recent study of internal medicine residents at Duke University indicated that residents on night float rotations reported the highest levels of burnout among any group. This is a multifactorial problem and is likely influenced by less interaction with other staff, breakdowns in paging communication between night nurses and night residents, and fewer patient interactions. To help combat this, Drs. Stadeli and Zhu plan to institute a standardized evening huddle between surgical night float residents and charge nurses on the acute care surgical floors. The purpose of these huddles will be to go to the bedside of selected patients previously identified as acutely ill and use the standardized IPASS handoff tool to ensure that all members of the care team, as well as the patient, are updated on the patient's status and that a reasonable, appropriate plan is in place. Following this, nurses will also have an opportunity to discuss non-urgent issues or concerns with the night float resident in person at the nursing station.
Through standardization of these nightly huddles, they aim to develop a paradigm of night float residents as integrated members of the physician care team whereby they are engaged in an interdisciplinary care model that promotes meaningful patient interactions. Drs. Stadeli and Zhu believe that this will enrich the night float work environment by fostering relationships between residents and nurses, creating a setting for night float residents to spend face-to-face time with patients, and improving the efficiency and quality of communication between nurses and trainees.
PROJECT TEAM
Resident Leads:
Jay Zhu, MD – PGY5 in General Surgery
Kathryn Stadeli, MD- PGY4 in General Surgery
Additional team members:
Jamie Oh, MD – PGY2, General Surgery
Kathryn Harris, ARNP – Advanced Practice Provider, General Surgery Division
Tracy Kwan, ARNP – Advanced Practice Provider, General Surgery Division
Jennifer Zech, MS – Research Coordinator, Department of Medicine
Patricia Kritek, MD, EdM – Professor, Division of Pulmonary Critical Care and Sleep Medicine, and UWMC GME Director of Quality & Patient Safety