UW creating next-gen mannequins with warm skin, wet mouths to train battlefield medics
The Seattle Times
Originally published March 8, 2017 at 6:00 am Updated March 8, 2017 at 7:49 pm by Bob Young, Seattle Times staff reporter
University of Washington researchers aim to create the next generation of mannequins, with warm "flesh," moist "tongues" and other human touches for training battlefield medics.
The "soldier" lying in a dark corner of a University of Washington lab screams and writhes after being wounded by a roadside bomb. His right leg is blown off below the knee. Shrapnel has punctured his femoral artery and chest.
"You're not going to die," said Troy Reihsen, tying a tourniquet around the hemorrhaging leg. Working with just the light of his headlamp, Reihsen moves on to plug the femoral artery and chest wounds. He jams a needle into the soldier's chest to help him breathe.
"And stop!" said Dr. Robert Sweet, director of the WWAMI Institute for Simulation in Healthcare (WISH) lab at UW Medical Center. Read more >>
---
KING5 News
A simulation involving a combat medic treating a wounded soldier in the field. (Credit: KING)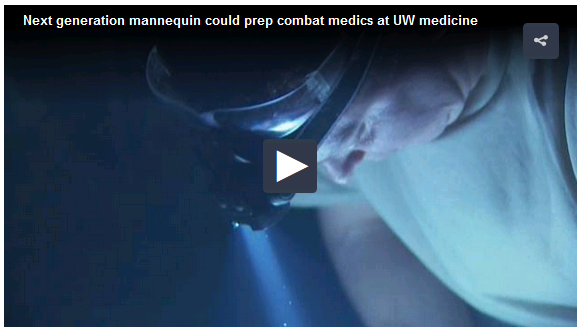 Doctors at UW Medicine are working on next generation mannequins that will prepare combat medics to treat injuries sustained on the battlefield. If it works, the mannequin will nearly replicate a human being with terrible injuries.
UW Medicine received millions of dollars in grant money from the Department of Defense to work on the project. They are hopeful that by 2019 they will have a next generation mannequin that looks, feels, and bleeds like a human being.
"I definitely know that individuals who have gone through the training program have had significantly different stress inoculation, what I call exposure to this environment so that when you see it in combat, you're not freaked out," UW Medicine's Troy Reihsen said. "I believe that this has the potential to affect training algorithms, the stress inoculation, and affect resiliency so that when you do see that the first time, you see your buddy's leg blown off, you don't completely freeze. You can actually act and treat."
Dr. Robert Sweet is the Director of the Simulation Lab at UW Medicine and has been leading the charge with the efforts to obtain the grant from the Department of Defense. He is looking forward to what the newest mannequin will be able to do to provide combat medics with real life scenarios.
---
Future combat medics to train on next-gen manikin that bleeds
With Army contract, UW Medicine simulation lab helps create lifelike robot that responds to external stimuli
By Jake Siegel, HSNewsBeat, Updated 10:00 AM, March 8, 2017
Troy Reihsen was doing his best to save the injured soldier in front of him.
"You're going to be OK, buddy, just stay with me," Reihsen said as he tied a tourniquet on the hemorrhaging right leg, blown off below the knee.
After ensuring that the bleeding had stopped and other wounds had been addressed, Reihsen declared the soldier ready for transport.
Then the sound of whizzing bullets stopped, audience lights went up, and an actor emerged to applause from under a rubberized manikin suit. The triage scenario had ended at the WWAMI Institute for Simulation in Healthcare (WISH) lab at UW Medical Center in Seattle.
Reihsen was demoing an early iteration of a research project aimed at saving lives on the battlefield. It is being funded by an $8 million Department of Defense
---