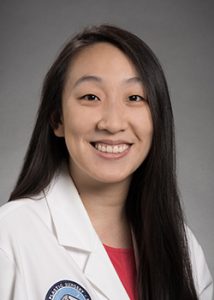 Hometown:
Toronto, ON, Canada
Medical School:
Harvard Medical School
Additional Education:
Massachusetts Institute of Technology (MIT) – Undergraduate School
Resident Bio:
I grew up in Toronto and graduated from MIT with a double major in Brain and Cognitive Sciences and Theater Arts. During my time at Harvard Medical School, I served on the AWS National Medical Student Committee for two years. I conducted basic science research in wound healing and scarring in the Longaker Lab at Stanford University as a Sarnoff Fellow. Upon returning to Boston, I designed and developed the PRSVC for medical students interested in the field. I'm passionate about surgical education, research and innovation, DEI, and mentorship and am excited to continue my work and service at UW.
Personal Interests:
Theatre, singing, archery, and rifle shooting.
Clinical Interests:
Microsurgery, Hand surgery
Professional Activities:
Plastic and Reconstructive Surgery Virtual Curriculum (PRSVC), Association of Women Surgeons (AWS)
Why UW?
I fell in love with the UW Plastic Surgery program when I saw how close and supportive the residents, fellows, and faculty are of each other. I'm so excited to join the family!
Publications:
*, # indicate equal contribution
Mascharak S, desJardins-Park HE, Davitt MF, Griffin M, Borrelli MR, Moore AL, Chen K, Duoto B, Chinta M, Foster DS, Shen AH, Januszyk M, Kwon SH, Wernig G, Wan DC, Lorenz HP, Gurtner GC, Longaker MT. Preventing Engrailed-1 activation in fibroblasts yields wound regeneration without scarring. Science. 2021 Apr 23;372(6540):eaba2374. 

PMID: 

33888614
Shen AH, Alfonso AR, Cuccolo NG, Johnson AR, Lee BT, Lin SJ. Designing a Plastic and Reconstructive Surgery Virtual Curriculum (PRSVC): Assessment of Medical Student Knowledge, Surgical Skill, and Community Building. Plastic and Reconstructive Surgery. Accepted 2021 Apr.
Shiah E, Laikhter E, Manstein SM, Comer CD, Shen AH, Lin SJ. Evaluation of Social Media Utilization by Academic Plastic Surgery Programs During the COVID-19 Pandemic. Plastic and Reconstructive Surgery. Accepted 2021 Feb.
Borrelli MR*, Griffin M*, Chen K, Deleon NMD, Adem S, Mascharak S, Shen AH, Ngaage LM, Lewis N, Longaker MT, Gurtner GC, Wan DC, Lorenz HP. Profibrotic Signaling Pathways and Surface Markers Are Upregulated in Fibroblasts of Human Striae Distensae and in a Mouse Model System. Plastic and Reconstructive Surgery. Accepted 2021 Feb.
Leavitt T*, Hu MS*, Borrelli MR*, Januszyk M#, Garcia JT#, Ransom RC, Mascharak S, desJardins-Park HE, Litzenburger UM, Walmsley GG, Marshall CD, Moore AL, Duoto B, Adem S, Foster DS, Salhotra A, Shen AH, Griffin M, Shen EZ, Barnes LA, Zielins ER, Maan ZN, Wei Y, Chan CKF, Wan DC, Lorenz HP, Chang HY, Gurtner GC, Longaker MT. Prrx1 fibroblasts represent a pro-fibrotic lineage in the mouse ventral dermis. Cell Reports. 2020 Nov 10;33(6):108356. PMID: 33176144
Zarwan C, Diamond O, Lam P, Ghebremichael MS, Lotz M, Shen AH, Sharifi S, Rozhansky F, Gore TA, Pories SE. Longitudinal Study of Breast Cancer Risk Markers. The Breast Journal. 2021 Jan;27(1):48-51. PMID: 33099843.
Dean RA, Patel AA, Shen AH, Griffith LP, Lance SH. Preparing for Plastic Surgery Residency Interviews in a Virtual Era. Plastic and Reconstructive Surgery Global Open. 2020 Oct 22;8(10):e3178. PMID: 33173690
Shen AH*, Borrelli MR*, Adem S, Deleon NMD, Patel RA, Mascharak S, Yen SJ, Sun BY, Taylor WL, Januszyk M, Nguyen DH, Momeni A, Gurtner GC, Longaker MT, Wan DC. Prophylactic treatment with transdermal deferoxamine mitigates radiation-induced skin fibrosis. Scientific Reports. 2020 July 23;10(1):12346. PMID: 32704071
Borrelli MR, Patel RA, Adem S, Deleon NMD, Shen AH, Sokol J, Yen S, Chang EY, Nazerali R, Nguyen D, Momeni A, Wang KC, Longaker MT, Wan DC. The Antifibrotic ASC: Grafted Fat enriched with CD74+ Adipose-Derived Stromal Cells reduces chronic radiation-induced skin fibrosis. Stem Cells Translational Medicine. 2020 Jun;9(11):1401-1413. PMID: 32563212
Borrelli MR, Patel RP, Blackshear C, Vistnes S, Deleon NMD, Adem S, Shen AH, Sokol J, Momeni A, Nguyen D, Longaker MT, Wan DC. CD34+CD146+ adipose-derived stromal cells enhance engraftment of transplanted fat. Stem Cells Translational Medicine. 2020 Jun;9(11):1389-1400. PMID: 32543083
desJardins-Park HE*, Chinta MS*, Foster DS, Borrelli MR, Shen AH, Wan DC, Longaker MT. Fibroblast Heterogeneity and Its Implications for Plastic and Reconstructive Surgery: A Basic Science Review. Plastic and Reconstructive Surgery Global Open. 2020 Jun 23; 8(6):e2927. PMID: 32766071
Fefer M, Lamb CC, Shen AH, Clardy P, Muralidhar V, Devlin PM, Dee EC. Multilingual Analysis of the Quality and Readability of Online Health Information on the Adverse Effects of Breast Cancer Treatments. JAMA Surgery. 2020 Jun 10;155(8):781-784. PMID: 32520317
Shen AH, Tevlin R, Kwan MD, Ho OH, Fox PM. Neonatal Compartment Syndrome and Compound Presentation at Birth. Journal of Hand Surgery Global Online. 2020 May;2(3):166-170.
Borrelli MR, Deleon NMD, Adem S, Patel RA, Mascharak S, Shen AH, Irizarry D, Nguyen D, Momeni A, Longaker MT, Wan DC. Fat Grafting Rescues Radiation-Induced Joint Contracture. Stem Cells. 2020 Mar;38(3):382-389. PMID: 31793745
Borrelli MR, Shen AH, Lee GK, Momeni A, Longaker MT, Wan DC. Radiation-Induced Skin Fibrosis: Pathogenesis, Current Treatment Options, and Emerging Therapeutics. Annals of Plastic Surgery. 2019 Oct;83(4S Suppl 1):S59-S64. PMID: 31513068
Wong SM, Almana N, Choi J, Hu J, Gagnon H, Natsuhara K, Shen AH, DeSantis S, Dominici L, Golshan M, Weiss A, Bellon J, Mittendorf EA, King TA. Prognostic Significance of Residual Axillary Nodal Micrometastases and Isolated Tumor Cells After Neoadjuvant Chemotherapy for Breast Cancer. Annals of Surgical Oncology. 2019 Oct;26(11):3502-3509. PMID: 31228134
Krikorian S, Pories S, Tataronis G, Caughey T, Chervinsky K, Lotz M, Shen AH, Weissmann L. Adherence to oral chemotherapy: Challenges and opportunities. Journal of Oncology Pharmacy Practice. 2019 Oct;25(7):1590-1598. PMID: 30253725
Shen AH. Reflecting on the Human Connection. The 2019 Jun;24(6):864-865. PMID: 30842243
Brovman EY, Foley CA, Shen AH, Whang EE, Urman R. Intraoperative Ventilation Patterns in Morbidly Obese Patients Undergoing Laparoscopic Bariatric Surgery. Journal of Laparoendoscopic & Advanced Surgical Techniques. 2018 Dec;28(12):1463-1470. PMID: 29870299
Urits I, Shen AH, Jones MR, Viswanath O, Kaye AD. Complex Regional Pain Syndrome, Current Concepts and Treatment Options. Current Pain and Headache Reports. 2018 Feb 5;22(2):10. PMID: 29404787
Shen AH, Howell D, Edwards E, Warde P, Matthew A, Jones JM. The experience of testicular cancer patients during the transition from active treatment to follow-up surveillance. Urologic Oncology. 2016 Apr;34(4):168.e11-20. PMID: 26707612
Bero AW, Meng J, Cho S, Shen AH, Canter RG, Ericsson M, Tsai LH. Early remodeling of the neocortex upon episodic memory encoding. Proceedings of the National Academy of Sciences. 2014 Aug 12; 111(32):11852-11857. PMID: 25071187