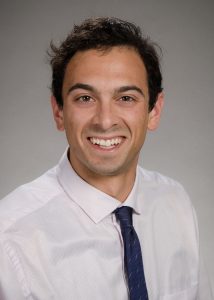 Hometown:
Seattle
Undergraduate School:
University of Michigan
Medical School:
Wayne State University School of Medicine
Bio:
I was born outside of Detroit, was fascinated by aging early in life, found cardiac surgery in medical school, and am trying to make a career out of both!
Personal Interests:
I'm an avid runner and guitar player. I've long played tennis as well. Outside of that, I love spending time with my fiancee and friends.
Clinical Interests:
Aging biology and aortic surgery
Why UW?
No institution matched the collegiality, clinical excellence, research accumen, and wonderful location of UW.
What advice do you have for incoming interns?
Work hard and build friendships! They're the only way to get through residency.
What do you like best about living in Seattle?
The outdoors!
Publications:
Naima Alver, Rohun Bhagat, Lena Trager, Zach Brennan, David Blitzer, Clauden Louis, Aditya Sengupta, Arjune Dhanekula, Tara Karamlou, A Primer for the Student Joining the Congenital Cardiac Surgery Service Tomorrow. JTCVS Open. 2023 Apr 17. ISSN 2666-2736. https://doi.org/10.1016/j.xjon.2023.04.005.Joining
Arjune Dhanekula, Thamanna Nishath, Gabriel Aldea, Christopher Burke. Reply: Sutureless Valves—Expanding the Surgeon's Toolbox. JTCVS Techniques. Pending publication.
Arjune Dhanekula, Thamanna Nishath, Gabriel Aldea, Christopher Burke. Use of the Perceval Sutureless Aortic Valve in Re-Operative Aortic Valve Replacement. JTCVS Techniques. 2022 Feb 26. doi: https://doi.org/10.1016/j.xjtc.2022.02.025
Arjune Dhanekula, Matthew Sweet, Nimesh Desai, Christopher Burke. Aortic arch stenting: current strategies, new technologies and future directions. Heart 2021;107:1199-1205.
Yanmen Yang, Nimisha Sulejmani, Arin Jantz, Bryant Summers, Arjune Dhanekula, Celeste Williams, Hassan Nemeh, David Lanfear. April 2018. Precision Medicine for Tacrolimus Dosing in Heart Transplant Recipients. The Journal of Heart and Lung Transplantation, Volume 37, Issue 4, S416. doi:10.1016/j.healun.2018.01.1076
Hassan Nasser, Arjune Dhanekula, Muwaffak Abdulhak, Michael Mott, Zane Hammoud. 2018. Giant Cell Tumor of Bone Presenting as Left Posteromedial Chest Wall Tumor. Annals of Thoracic Surgery. Volume 106, Issue 2, E89-E91. https://doi.org/10.1016/j.athoracsur.2018.02.053
Lifang Feng, Guangying Wang, Eileen P. Hamilton, Jie Xiong, Guanxiong Yan, Kai Chen, Xiao Chen, Wen Dui, Amber Plemens, Lara Khadr, Arjune Dhanekula, Mina Juma, Hung Quang Dang, Geoffrey M. Kapler, Eduardo Orias, Wei Miao, and Yifan Liu. July 26, 2017. A germline-limited piggyBac transposase gene is required for precise excision in Tetrahymena genome rearrangement. Nucleic Acids Research 2017 gkx652. https://doi.org/10.1093/nar/gkx652