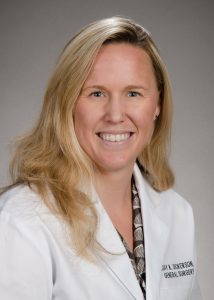 Email:
Hometown:
Los Gatos, CA
Undergraduate School:
Stanford University
Medical School:
Johns Hopkins University
Resident Bio:
I'm from Los Gatos, California, and attended Stanford where I played goalkeeper for the soccer team and studied neuroscience, psychology, and Spanish. I headed east to Johns Hopkins for medical school, before returning to the West Coast for residency. My clinical and research interests include HPB and surgical oncology, applications of AI and other new technologies to surgery, and patient-centered outcomes research. I chose UW because I'm both inspired by and have fun with my co-residents and attendings, am challenged by the incredible clinical and research training, and of course, am excited to explore the many lakes and mountains of Seattle.
Personal Interests:
Soccer, mountain climbing, camping, running, baking, and live music.
Clinical Interests:
Hepatopancreaticobiliary, surgical oncology
Professional Activities:
Department of Surgery Wellness Committee
Women in Surgery Interest Group
Why UW?
I chose UW because it offers surgical training and research experience that matches the best in the country, while also genuinely prioritizing wellness and diversity. And bonus: I made some new best friends, which means I get to have fun with my friends while at work.
What advice do you have for incoming interns?
Try to do something each day that: makes you smile, that makes someone else smile, and that gets you out of your comfort zone. And even on the hardest days, you can feel proud if you did your best to take care of your patients and take care of yourself.
What do you like best about living in Seattle?
I love Seattle because there are endless opportunities for outdoor fun within an hour's drive — kayaking, swimming, trail running, watching winning sports teams, camping, mountaineering, skiing/snowboarding, wine/beer/whiskey tasting, fishing, rock climbing, cycling, sailing, island hopping, and even whale watching! And for that friend who wants to do things indoors, there's an awesome food and music scene.
Publications:
Dickerson LK, Rouhizadeh M, Korotkaya Y, Bowring MG, Massie AB, McAdams-Demarco MA, Segev DL, Cannon A, Guerrerio AL, Chen PH, Philosophe BN, Mogul DB: Language Impairment in Adults with End-stage Liver Disease: Application of Natural Language Processing Towards Patient-Generated Health Records. Nature Partner Journals Digital Medicine 2019 2(106):1-7
Dickerson LK, De Freitas S, Pozo ME, Safar B: Letter to the Editor: Mesenteric Lymphatic Vessel Density is Associated with Disease Behavior and Postoperative Recurrence in Crohn's Disease. J GI Surg 2019 23(1):181-182
Dickerson LK, Rositch AF, Lucas S, Harvey SC: Pilot educational and feasibility assessment of breast ultrasound in rural South Africa. J Glob Onc 2017 3(5):502-8
Trupe LA, Rositch AF, Dickerson L, Lucas S, Harvey SC: Knowledge and attitudes about breast cancer in Limpopo, South Africa. J Glob Onc 2017; 3(5):509-14
Hadley M, Mullen LA, Dickerson L, Harvey SC: Assessment and improvement strategies for a breast cancer early detection program in rural South Africa. J Glob Onc 2018; 4:1-12