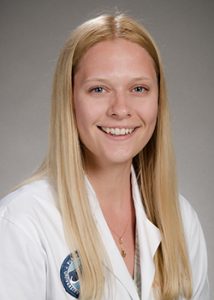 Email:
Hometown:
Saranac Lake, NY
Undergraduate School:
Boston University
Medical School:
Boston University
Resident Bio:
I am originally from the small mountain town of Saranac Lake, NY. I spent nine years in Boston obtaining my undergraduate and medical degrees from Boston University before moving to Seattle to train in Plastic Surgery. My clinical interests include oncologic reconstruction and wound healing.
Personal Interests:
Painting, medical illustration, figure skating, competitive game nights with friends, exploring Seattle
Clinical Interests:
Oncologic reconstruction, wound healing
Publications:
Stolarski AE, Eble DJ, Kristo G. "Rectus abdominis muscle and peritoneal flap as a novel alternative technique for repair of gastric perforations." ACS Case Reviews in Surgery. Accepted.
Aycart M, Eble DJ, Ross K, Orgill DO. September 27, 2018. "Mechanisms of Action of Instillation and Dwell Negative Pressure Wound Therapy with Case Reports of Clinical Applications." Cureus 10(9):e3377.
Eble DJ, Carpinito GP. "A Brief Era of Rational Therapeutics: The Trials and Regulations of Chester S. Keefer MD." ACESO. Volume IV, 2015-2016.