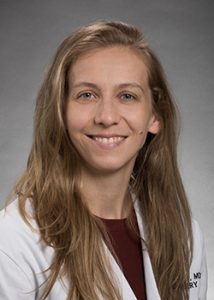 Hometown:
Montclair, NJ
Medical School:
University of Pennsylvania
Additional Education:
Undergraduate: Stanford University
Resident Bio:
Originally from New Jersey, I went to college in California and then moved to Seattle for work. After returning to the East Coast for medical school, I am thrilled to be back in Seattle for residency.
Personal Interests:
Running, rowing, reading, coffee!
Clinical Interests:
Surgical oncology
Patient-centered outcomes
Surgical equity
Professional Activities:
Association of Women Surgeons
American College of Surgeons
Association of Academic Surgeons
Why UW?
Incredible training in an unbeatable location.
Publications:
Goodsell, K.E

., Mulvey, H.E., Familusi, O.O., Williams, C., Yeguez, A., & Brooks, A. Teaching What Matters: Integrating Surgical Disparities Education into the Core Clerkship. Podium

Session III A

, Association for Surgical Education Annual Meeting, May 2021

Goodsell, K.E,

Soegaard, J.M., Ermer, J.P., Tchou, J.C., Gabriel, P., Shulman, L.N., & Wachtel, H. Current Reporting Practices Related to New Operative Standards for Axillary Staging in Breast Cancer. Abstract Presentation #ASC20210596, Academic Surgical Congress, February 2021

Goodsell KE, Ermer JP, Zaheer S, Kelz RR, Fraker DL, Wachtel H. Double adenoma as a cause of primary hyperparathyroidism: Asymmetric hyperplasia or a distinct pathologic entity? Am J Surg. 2021 Jan 19:S0002-9610(21)00039-8. doi: 10.1016/j.amjsurg.2021.01.021. Epub ahead of print. PMID: 33551118.
Fieber J, Goodsell K, Kelz RR, Ermer JP, Wirtalla C, Fraker DL, Wachtel H. Racial Disparities in Primary Hyperparathyroidism. World J Surg. 2021 Jan;45(1):180-187. doi: 10.1007/s00268-020-05791-w. Epub 2020 Sep 25. PMID: 32978665; PMCID: PMC7906108.
Goodsell K, Sullivan PZ, Macaluso M, Blue R, Ghenbot Y, Al-Bayar A, Ozturk AK, Pukenas B, Schuster J. Osteoradionecrosis of the Occipitocervical Junction After Radiation for Head and Neck Cancer: A Report of 8 Cases. World Neurosurg. 2020 Jun;138:381-385. doi: 10.1016/j.wneu.2020.02.140. Epub 2020 Mar 4. PMID: 32145424.