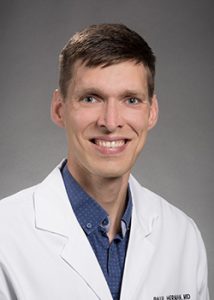 Hometown:
Uniontown, PA
Medical School:
University of Pittsburgh
Resident Bio:
I moved frequently growing up, spending significant portions of my childhood in Manila, Philippines; Cleveland, Ohio; and Uniontown, Pennsylvania. I studied molecular biology in undergrad, followed by one semester of dental school before deciding to change paths and pursue medical training due to a family experience with cancer. During medical school I was involved in research on outcome disparities following surgical treatment of liver cancer and patient-reported outcomes in colorectal surgery. Prior to medical school at Pitt, I lived and worked in Seattle for several years and am excited to return for residency.
Personal Interests:
Running, cycling, hiking and playing ball with my dog Rajah, trying new bakeries and cafes with my wife Julia.
Clinical Interests:
Surgical oncology, trauma/surgical critical care, health services research, surgical education
Professional Activities:
American College of Surgeons
Why UW?
I was impressed by the welcoming, enthusiastic and close-knit UW residents and faculty. Each was passionate about their respective fields and surgical education, but also improving diversity and equity in surgery. I also sought a program with diverse training sites and a commitment to serving vulnerable and marginalized populations. UW was a clear fit with its combination of a leading academic center and Harborview Medical Center (as well as a strong Children's hospital and VA).
Publications:
Herman PI, Marji FP, Anstadt EE, Dvoracek LA, Goldstein JA, Pollack IF, Losee JE. Decompressive cranial vault remodeling in osteosclerotic robinow syndrome. Cleft Palate Craniofac J. 2021;58(1):126-30.