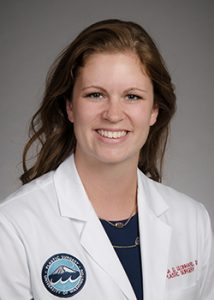 Hometown:
Abbotsford, British Columbia
Graduate School:
Cornell University
Medical School:
Midwestern University Arizona College of Osteopathic Medicine
Resident Bio:
I grew up in British Columbia and spent my undergraduate years in upstate New York playing softball for Cornell University. After graduating with a degree in chemistry and chemical biology, I spent 3 years teaching chemistry at Weill Cornell Medical College in Qatar. While abroad, I enjoyed exploring local culture, coaching women's athletics, and playing basketball for the Qatar women's national team. Medical school brought me back to North America, to the Arizona desert this time, where I chose to study Osteopathic Medicine. I am happy to be back in the Pacific Northwest pursuing plastic and reconstructive surgery and hope to work locally, while also continuing my work in international medicine.
Personal Interests:
Being outdoors, live music, playing softball and basketball
Clinical Interests:
General reconstruction, wound healing, global health
Publications:
Leonhard V, Caldwell G, Goh M, Reeder S, Smith HF. Ultrasonographic diagnosis of Thoracic Outlet Syndrome secondary to brachial plexus piercing variation. Diagnostics.2017; 7:40. DOI:10.3390/diagnostics7030040
Leonhard V, Smith R, Caldwell G, Smith HF. Anatomical variations in the brachial plexus roots: implications for diagnosis of neurogenic thoracic outlet syndrome. Annals of Anatomy. 2016; 21-26. DOI:10.1016/j.aanat.2016.03.011 PMID: 27133185
Leonhard, V, Smith, R, Caldwell, G, Coleman, M, Smith, HF. A New Anatomical Variation in the Brachial Plexus Roots and its Implications for Neurogenic Thoracic Outlet Syndrome. Journal of the Federation of American Society for Experimental Biology. 2015, Apr; 29(1): 864.3.