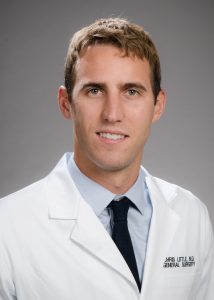 Resident Bio:
I am in the research track of the general surgery program. I was raised in a Navy family, originally from Jacksonville, FL. We moved around the southeast coast before settling in Appleton, WI. I went to both undergrad and medical school at the University of Wisconsin in Madison, before moving to Seattle for residency.
Personal Interests:
Cribbage and Thunderbird hockey
Clinical Interests:
Transplant surgery
Professional Activities:
Publications:
Zhang M, Urabe G, Little C, et al. HDAC6 Regulates the MRTF-A/SRF Axis and Vascular Smooth Muscle Cell Plasticity. JACC Basic Transl Sci. 2018;3(6):782-795.
Grodstein EI, Little C, Molmenti EP, Mezrich JD. Renal Transplantation as a Platform for Teaching Residents Open Vascular Surgical Techniques: Effects on Early Graft Function. J Surg Educ. 2018
Zhu Y, Takayama T, Wang B, Kent A, Zhang M, Binder BY, Urabe G, Shi Y, DiRenzo D, Zhou Y, Little C, Roenneburg DA, Shi XD, Li L, Murphy WL, Kent KC, Ke J, Guo LW. "Restenosis Inhibition and Re-differentiation of TGFβ/Smad3-activated Smooth Muscle Cells by Resveratrol." Sci Rep. 2017;7:41916.
Guo LW, Wang B, Goel SA, Little C, Takayama T, Shi XD Ronneburg D, DiRenzo D, Kent KC. "Halofuginone stimulates adaptive remodeling and preserves re-endothelialization in balloon-injured rat carotid arteries." Circ Cardiovasc Interv. 2014;7(4):594-601.
Zhang J*, Little CJ*, Tremmel DM, Yin JC, Wesley CS. "Notch-inducible hyperphosphorylated CREB and its ultradian oscillation in long-term memory formation." J Neurosci. 2013;33(31):12825-34. (* co-first authors)
Tremmel DM, Resad S, Little CJ, Wesley CS. Notch and PKC are involved in formation of the lateral region of the dorso-ventral axis in Drosophila embryos. PLoS ONE. 2013;8(7):e67789.