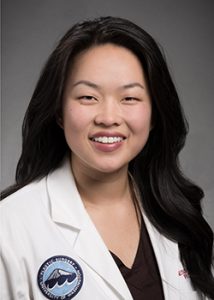 Hometown:
Castro Valley, CA
Medical School:
Keck School of Medicine of thee University of Southern California
Resident Bio:
Born to immigrant parents from China, I grew up in the San Francisco Bay Area. From a young age, I gravitated toward science, art, and especially anything that combined the two. I carried these interests through college at Berkeley, where I studied music and evolutionary biology, and into medical school. After completing a research year at the Children's Hospital of Los Angeles studying pediatric facial reconstruction, I committed to pursuing Plastic and Reconstructive Surgery—a specialty whose richness and impact resonated deeply with me.
Personal Interests:
Urban sketching, singing and playing guitar, photography, cooking/feasting, and studying languages.
Clinical Interests:
Craniofacial surgery, pediatric plastic surgery, replantation surgery, determinants of surgical care, language-based inequity in healthcare .
Why UW?
I chose UW because I wanted to be surrounded by open-minded, compassionate problem solvers who care for a diverse set of patients as well as for each other.
Publications:
Liu A,

Odono LT, Wlodarczyk JR, Garg RK, Hammoudeh JA. Unique Techniques Utilizing Rib Grafts for Mandibular Reconstruction in the Pediatric Population. J Craniofac Surg. 2021 Mar 25. doi: 10.1097/SCS.0000000000007440. PMID: 33852516.

Wlodarczyk JR, Wolfswinkel EM, Fahradyan A, Rhee C,

Liu A,

Gibreel W, Magee W 3rd, Urata MM, Hammoudeh JA. Nasoalveolar Molding: Assessing the Burden of Care. J Craniofac Surg. 2021 Mar-Apr 01;32(2):574-577. doi: 10.1097/SCS.0000000000007026. PMID: 33704983.

Liu A,

Minasian RA, Maniago E, Justin Gillenwater T, Garner WL, Yenikomshian HA. Venous Thromboembolism Chemoprophylaxis in Burn Patients: A Literature Review and Single-Institution Experience. J Burn Care Res. 2021 Feb 3;42(1):18-22. doi: 10.1093/jbcr/iraa143. PMID: 32842151.

Liu A,

Warren M, Wlodarczyk JR, Gibreel W, Hammoudeh JA. Noncongenital Pediatric Mature Teratoma of the Mandible. JAMA Otolaryngol Head Neck Surg. 2020 Nov 1;146(11):1085-1086. doi: 10.1001/jamaoto.2020.2572. PMID: 32940640.

Fahradyan A, Goel P, Williams M,

Liu A,

Gould DG, Urata MM. Temporal Fat Grafting in Children With Craniofacial Anomalies. Ann Plast Surg. 2020 Nov;85(5):505-510. doi: 10.1097/SAP.0000000000002431. PMID: 32541538.

Ebner PJ,

Liu A,

Gould DJ, Patel KM. Breast implant-associated anaplastic large cell lymphoma, a systematic review and in-depth evaluation of the current understanding. J Surg Oncol. 2019 Sep;120(4):573-577. doi: 10.1002/jso.25626. Epub 2019 Aug 1. PMID: 31373010.