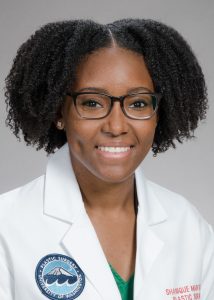 Email:
Hometown:
Miami, FL
Graduate School:
Stanford University
Medical School:
Stanford University School of Medicine
Resident Bio:
I was born in Jamaica, which is where I spent the first 11 years of my life prior to my family moving to Miami, FL. In high school I developed an interest in the chemical and biological sciences, and was also introduced to the sport of rowing. I subsequently headed to the West Coast to Stanford University where I majored in chemistry and was a member of the women's open weight rowing team for two years. Following undergrad, I worked at Apple Inc. on a small health technology research and development team before returning to Stanford to pursue my medical education. My clinical interests include breast reconstruction and microsurgery, with special interests in determinants of surgical care, patient-centered surgical outcomes and global surgical education. I was drawn to UW Plastic Surgery by the diverse patient population served at the different clinical sites, exceptional attendings who are advancing the field and the inspiring co-residents who will support me on this journey.
Personal Interests:
Cooking Jamaican food, pottery, knitting, hiking, indoor cycling and binge watching shows on Netflix
Clinical Interests:
Breast Reconstruction, microsurgery
Professional Activities:
Why UW?
—
What advice do you have for incoming interns?
—
What do you like best about living in Seattle?
—
Publications:
Martin, S., Turner, E., Nguyen, A., Thornton, B., & Nazerali, R. S. An Evaluation of the Utility of the Breast Reconstruction Risk Assessment Score Risk Model in Prepectoral Tissue Expander Breast Reconstruction. Annals of Plastic Surgery, Publish Ahead of Print. https://journals.lww.com/annalsplasticsurgery/Fulltext/publishahead/An_Evaluation_of_the_Utility_of_the_Breast.96637.aspx
Martin, S., Cai, L., Ogunleye, A., Nazerali, R., Lee, G., & Lee, G. (2019). Abstract 145: Postsurgical Complications Associated with Tissue-Expander Placement into the Previously Irradiated Breast. Plastic and Reconstructive Surgery Global Open, 7(4 Suppl), 101–101. PMC. https://doi.org/10.1097/01.GOX.0000558419.74048.e6
Martin, S., Turner, E., Thornton, B., & Nazerali, R. (2019). Abstract 137: Clinical Outcomes in Prepectoral Stage 1 Breast Reconstruction. Plastic and Reconstructive Surgery Global Open, 7(4 Suppl), 95–96. PMC. https://doi.org/10.1097/01.GOX.0000558411.97811.21
Kao, J., Mutuku, F., Martin, S., Lee, J., Mwandi, J., Mukoko, D., Malhotra, I., King, C. H., & LaBeaud, A. D. (2019). Early Childhood Anemia in a Birth Cohort in Coastal Kenya: Links to Infection and Nutrition. The American Journal of Tropical Medicine and Hygiene, 101(1), 242–252. PubMed. https://doi.org/10.4269/ajtmh.17-0688
Jeong, Y., Rhee, H., Martin, S., Klass, D., Lin, Y., Nguyen, L. X. T., Feng, W., & Diehn, M. (2016). Identification and genetic manipulation of human and mouse oesophageal stem cells. Gut, 65(7), 1077. https://doi.org/10.1136/gutjnl-2014-308491
Jeong, Y., Swami, S., Krishnan, A. V., Williams, J. D., Martin, S., Horst, R. L., Albertelli, M. A., Feldman, B. J., Feldman, D., & Diehn, M. (2015). Inhibition of Mouse Breast Tumor-Initiating Cells by Calcitriol and Dietary Vitamin D. Molecular Cancer Therapeutics, 14(8), 1951. https://doi.org/10.1158/1535-7163.MCT-15-0066
Jeong, Y., Hoang, N. T., Lovejoy, A., Stehr, H., Newman, A. M., Gentles, A. J., Kong, W., Truong, D., Martin, S., Chaudhuri, A., Heiser, D., Zhou, L., Say, C., Carter, J. N., Hiniker, S. M., Loo, B. W., West, R. B., Beachy, P., Alizadeh, A. A., & Diehn, M. (2016). Role of KEAP1/NRF2 and TP53 Mutations in Lung Squamous Cell Carcinoma Development and Radiation Resistance. Cancer Discovery, CD-16-0127. https://doi.org/10.1158/2159-8290.CD-16-0127
Sadowsky, J. D., Pillow, T. H., Chen, J., Fan, F., He, C., Wang, Y., Yan, G., Yao, H., Xu, Z., Martin, S., Zhang, D., Chu, P., dela Cruz-Chuh, J., O'Donohue, A., Li, G., Del Rosario, G., He, J., Liu, L., Ng, C., … Wai, J. (2017). Development of Efficient Chemistry to Generate Site-Specific Disulfide-Linked Protein– and Peptide–Payload Conjugates: Application to THIOMAB Antibody–Drug Conjugates. Bioconjugate Chemistry, 28(8), 2086–2098. https://doi.org/10.1021/acs.bioconjchem.7b00258