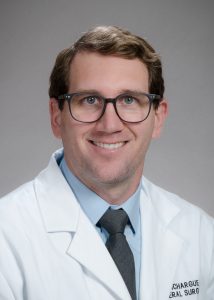 Hometown:
Chico, CA
Graduate School:
University of California-Santa Barbara
Medical School:
Virginia Commonwealth University
Bio:
I was born and raised in Chico, a small town nestled in Northern California. After living up and down the West Coast, I landed a short distance away in Richmond, VA for medical school. I am looking forward to new adventures in the Pacific Northwest.
Personal Interests:
Running, swimming, fishing, hiking, Sierra Nevada Brewery, and all things sports. I enjoy spending time with my family and friends.
Clinical Interests:
Trauma and pediatric surgery. global surgery
Professional Activities:
Gold Humanism Honor Society
Why UW?
UW has everything I could want in a general surgery program. Our 5 state catchment area allows for a unique experience to deliver care to a diverse patient population. Harborview offers an amazing mix of trauma, critical care, and the opportunity to provide care to the underserved, while the UW Medical Center provides a highly technical and advanced surgical training experience. Most importantly, the people here at UW are amazing. I have felt completely supported and encouraged by both faculty and peers. I feel I'm part of a family here at UW.
What advice do you have for incoming interns?
Work hard and have fun. Don't be afraid to ask questions or seek help.
What do you like best about living in Seattle?
I love the fact you can experience a big city lifestyle while also having access to the wilderness within a short drive or ferry ride.