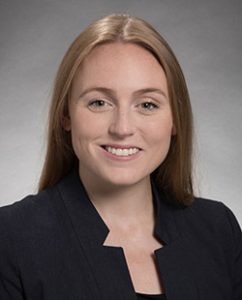 Hometown:
Chicago, IL
Medical School:
Loyola University Stritch School of Medicine
Bio:
I often describe myself as a forever Chicagoan, now a West Coast transplant still skeptical of how laidback and friendly people are! I graduated from Northwestern University in 2013, and traveled through South America, worked in restaurants, and became a data analyst for a health care start-up prior to attending medical school. Throughout my time in medical school, I was involved in health policy and advocacy work, even taking a year off to work in Washington, DC. After rotating on vascular surgery during my third year, I knew it was the specialty for me – and the rest is history.
Personal Interests:
Enjoy good food and drink, working out, hiking, exploring Seattle, traveling, and quality time with my husband and feline children.
Clinical Interests:
Health care policy and advocacy, health services research, health care disparities, quality improvement, vascular access, endovascular surgery, complex aortic disease
Professional Activities:
American Medical Association (AMA), Society for Vascular Surgery (SVS)
Why UW?
The University of Washington is one of the premier hospitals in Washington State, the West Coast, and in the United States. We serve such a diversite patient population while centering education, equity, and innovation. Both the general surgery and vascular surgery training programs offer robust experience in and out of the operating room in addition to opportunities for mentorship and professional advancement. I would also make the argument that there's no better place to live and train, than in Seattle!
What advice do you have for incoming interns?
Be organized. Be patient. Be humble. Be kind.
What do you like best about living in Seattle?
While this answer isn't very original, the access to outdoors is unparalleled. On a day off after a long week, there's nothing better than a hike to get your blood pumping. The plethora of coffee to fuel you through the day and craft beer to enjoy at night isn't bad either.
Publications:
Chiu RG, Murphy BE, Zhu A, Mehta AI. Racial and Ethnic Disparities in the Inpatient Management of Primary Spinal Cord Tumors. World Neurosurg. 2020 Aug;140:e175-e184. doi: 10.1016/j.wneu.2020.04.231. Epub 2020 May 7. PMID: 32389874.
Chiu RG, Murphy BE, Rosenberg DM, Zhu AQ, Mehta AI. Association of for-profit hospital ownership status with intracranial hemorrhage outcomes and cost of care. J Neurosurg. 2019 Nov 29:1-9. doi: 10.3171/2019.9.JNS191847. Epub ahead of print. PMID: 31783363.