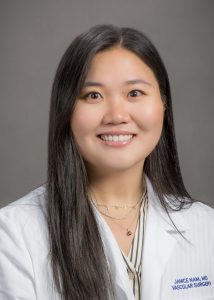 Hometown:
Federal Way, WA
Undergraduate School:
University of Washington
Medical School:
Loyola University Chicago Stritch School of Medicine
Bio:
I grew up in Washington state and I am returning home after living in Chicago for medical school. I studied biochemistry at the University of Washington and studied abroad in Spain. Prior to starting medical school, I worked as a barista and traveled around Europe. My interest in vascular surgery started my first year of medical school and continued throughout clinical rotation.
Personal Interests:
Trying out new restaurants, traveling, playing tennis, making a good cup of coffee
Clinical Interests:
Health care disparities, medical education, complex aortic disease, vascular trauma, peripheral artery disease, dialysis access, and cerebrovascular disease.
Professional Activities:
Society for Vascular Surgery (SVS)
Vascular and Endovascular Surgery Society (VESS)
American College of Surgeons (ACS)
Why UW?
UW vascular surgery program provides one of the most well-rounded training experience in the country which will prepare trainees to be equipped with any possible situations and procedures. The diverse patient population will broaden trainee's perspective to engage in treating the patient outside of just their vascular pathologies. Importantly, I was drawn to the supportive faculty and the resident camaraderie which I experienced as a Sub-I.
What advice do you have for incoming interns?
Be supportive. Be adaptable. Be kind.
What do you like best about living in Seattle?
Seattle is a city that is so close to the water and mountains, really serving the best of both worlds. The restaurant scene is impeccable.
Publications:
Nam J, D'Andrea M, O'Hara A, Staszewski L, Pozin J, Wozniak A, Korepta L, Halandras P, Soult M, Aulivola B. Racial Disparities in the Risk for Thromboembolic Events in COVID-19 Patients during the Height of the SARS-CoV-2 Pandemic and Impact on Outcomes. Ann Vasc Surg. 2022 Nov;87:278-285. doi: 10.1016/j.avsg.2022.04.048. Epub 2022 May 16. PMID: 35589032; PMCID: PMC9109992.
Penton A, Nam J, Sabbagh MD, Aulivola B. A rare case of angioinvasive aspergillosis aortic graft infection causing peripheral thromboembolism. J Vasc Surg Cases Innov Tech. 2022 Dec 5;9(1):101069. doi: 10.1016/j.jvscit.2022.11.007. PMID: 36852322; PMCID: PMC9958056.
Blecha M, DeJong M, Nam J, Penton A. Modifiable risk factors for occurrence of ipsilateral ischemic events after carotid endarterectomy beyond perioperative period. J Vasc Surg. 2023 Feb;77(2):538-547.e2. doi: 10.1016/j.jvs.2022.09.021. Epub 2022 Sep 29. Erratum in: J Vasc Surg. 2023 Jul;78(1):264. PMID: 36181995.
Penton A, DeJong M, Zielke T, Nam J, Blecha M. The Impact of Perioperative Morbidities, Lack of Discharge Aspirin, and Lack of Discharge Statin on Long Term Survival Following EVAR. Vasc Endovascular Surg. 2023 Apr 25:15385744231173198. doi: 10.1177/15385744231173198. Epub ahead of print. PMID: 37098123.