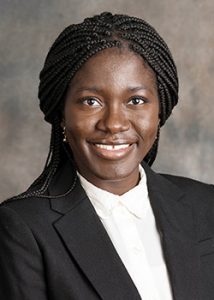 Email:
Hometown:
Oak Creek, WI
Undergraduate School:
Harvard College
Medical School:
The University of Chicago Pritzker School of Medicine
Resident Bio:
I was born in Cameroon and raised in Wisconsin. In college, I concentrated in chemistry with a secondary field in global health and health policy and then spent two years doing translational HIV immunology research. During medical school, I was heavily involved in student groups engaged in advocating for healthcare access, medical ethics, and peer mentorship in addition to surgical outcomes research. I am excited to join UW Surgery for its breadth and depth in clinical training, robust research pipeline and admirable community of residents. I also cannot wait to find new running routes in the scenic Pacific Northwest.
Personal Interests:
Running, singing, knitting, painting
Clinical Interests:
Surgical oncology
Professional Activities:
Gold Humanism Honor Society
Publications:
Oliveira L, Mayampurath A, Nchinda N, Wolf JM. June 2018. Do Biomarkers Play A Role On Tendinopathy? Poster Presentation, 65th Annual American College of Sports Medicine Meeting, Minneapolis, MN.
Kleinsteuber K, Corleis B, Rashidi N, Nchinda N, Lisanti A, Cho J.L., Medoff B.D., Kwon D, Walker B. D. Standardization and quality control for high-dimensional mass cytometry studies of human samples. Cytometry A. 2016 Oct. 89(10):903-913. PMID: 27575385
Kleinsteuber K, Rashidi N, Soghoian D, Nchinda N, Mavrothalassitis O, Buus S, George T, Ornatsky O, Walker, B.D. Characterization of functional antiviral CD8 T cell immune responses of HIV elite controllers by high dimensional phenotyping using mass cytometry (VIR6P.1169). The Journal of Immunology.