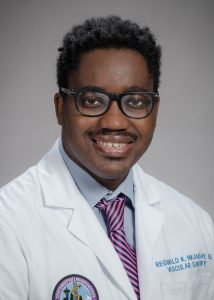 Hometown:
Seattle, Washington
Undergraduate School:
Washington University in St. Louis
Graduate School:
University of Louisville School of Medicine
Medical School:
Tulane University School of Medicine
Bio:
I was born in Chicago, Illinois to two loving parents who immigrated to the United States from Ghana. I had an affinity for service and science and attended Washington University in St. Louis for my undergraduate studies with the intention of pursuing medicine. I matriculated to Tulane University School of Medicine where I complete my undergraduate medical training and fell in love with surgery before matching to the University of Washington to pursue residency in the integrated vascular surgery residency program.
Personal Interests:
When not in the hospital I like to first and foremost spend time with my family and friends. In addition, I enjoy trying out restaurants in the Seattle area as well as exploring the outdoors.
Clinical Interests:
I am interested in all areas of vascular surgery and in the future expect to have a varied practice where I can serve all members of the community in which I practice. I do have a particular interest in lower extremity arterial disease and the management of chronic limb threatening ischemia.
Professional Activities:
Society of Vascular Surgery
Why UW?
The University of Washington integrated vascular surgery residency provides one of , if not the most well rounded training experience with a breadth of vascular pathology and patient populations. After training here, you'll be prepared to serve in any community and in any setting.
What advice do you have for incoming interns?
The main advice I have for incoming interns is to enjoy and trust in the process of residency. There will be difficult days but understanding your purpose will help guide you through.
What do you like best about living in Seattle?
Seattle is an easy navigable city with a temperate climate and a robust number of activities for individuals with varied interests.
Publications:
Taghavi S, Jones G, Duchesne J, McGrew P, Guidry C, Schroll R, Harris C, Nkansah R, Jacome T, Tatum D. Impact of trauma center volume on major vascular injury: An analysis of the National Trauma Data Bank (NTDB). Am J Surg. 2020 Sep;220(3):787-792. doi: 10.1016/j.amjsurg.2020.01.026. Epub 2020 Jan 25. PMID: 32061398.
Nkansah R, Amankwah KS. Racial disparities in vascular surgery: An analysis of race and ethnicity among U.S. medical students, general surgery residents, vascular surgery trainees, and the vascular surgery workforce. J Vasc Surg. 2021 Aug;74(2S):33S-46S. doi: 10.1016/j.jvs.2021.03.046. PMID: 34303458.
Ghaffarian AA, Nkansah R, Quiroga E, Tran N, Starnes BW, Singh N. Clinical Outcomes of a Diagnostic and Management Protocol for Popliteal Artery Entrapment Syndrome at a Large Referral Center. Ann Vasc Surg. 2022 Apr 20:S0890-5096(22)00184-4. doi: 10.1016/j.avsg.2022.04.001. Epub ahead of print. PMID: 35460858.