Alexandra Phocas, MD, MPH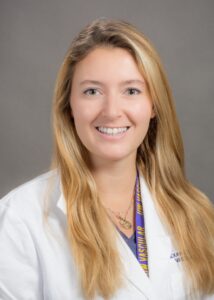 Hometown:
Jackson, WY
Undergraduate School:
University of Denver
Graduate School:
Thomas Jefferson University
Medical School:
Saint Louis University
Bio:
I grew up in Jackson, Wyoming, and spent most of my childhood outside, skiing in the winter and hiking, fishing, and camping in the summers. I started undergrad at DU without a great deal of direction, but eventually decided to pursue a degree in Biology and later decided I was interested in medicine after training as an EMT. I graduated in 2017, spent a year doing Orthopedic research, and then spent a year earning my MPH in Philadelphia. Early in my fourth year I spent time on the vascular service and within a few days knew that is was the specialty for me.
Personal Interests:
Trying new restaurants and breweries, spending as much time outside as possible (hiking, fishing, skiing, camping, etc), gardening, visiting local farmers markets, pickleball, and spending some quality time with friends and family.
Clinical Interests:
Vascular trauma, health care disparities, complex aortic disease, peripheral artery disease,
Professional Activities:
Society for Vascular Surgery (SVS)
Why UW?
The vascular surgery program at UW offers some of the broadest operative experience in the country in addition to being located in one of the best places to live. The highly accomplished faculty is cares deeply about the personal and professional development of their trainees, and the residents have built a fun and supportive culture within the program. The access to the outdoors is unparalleled in terms of major cities, and is only a quick flight from friends and family in Jackson.
What advice do you have for incoming interns?
Make the most of the time before residency, look out for each other, and find one thing, big or small, to improve on each day.
What do you like best about living in Seattle?
The access to almost any outdoor activity you could think of, the food scene is incredible, and the farmers markets!
Publications:
Phocas A., Chahla J., LaPrade R.F., (2017) Meniscal Root Tears: A Missed Epidemic? How Should They Be Treated?. In: LaPrade R., Arendt E., Getgood A., Faucett S., (eds) The Menisci. Springer, Berlin, Heidelberg.
LeBus G. F., Chahla J., Sanchex G., Akamefula R., Moatshe G., Phocas A., …Provencher M. T. (2017). The Latarjet Procedure at the National Football League Scouting Combine: An Imaging and Performance Analysis. Orthopaedic Journal of Sports Medicine, 5(9), 232596717726045.
Jennings J.M., Angerame M.R., Eschen C.L., Phocas A., Douglas D.A. (2019). Cannabis Use Does Not Affect Outcomes After Total Knee Arthroplasty. The Journal of Arthroplasty. 4(15). doi.org/10.1016/j.arth.2019.04.015
Angerame, M. R., Holst, D. C., Phocas, A., Williams, M. A., Dennis, D. A., & Jennings, J. M. (2021). Usefulness of perioperative laboratory tests in total hip and knee arthroplasty: Are they necessary for all patients?Arthroplasty Today, 7, 136-142.
Phocas A., Holst D., Kurkis, G., Angerame M., Dennis D.A. (2021). Total Hip Revision with a Custom Acetabular and Femoral Allograft-Prosthetic Composite as Salvage for Failed Unstable Megaprothesis in an Adolescent Patient: A Case Report at 19-Year Follow-up Duration. JBJS Case Connector. 11(4).  
Okeke R I, Whithorn B E, Bettag J, … Phocas A, et al. (2022) Intraoperative Doppler Ultrasound for Detection of Early Postoperative Vascular Complications In Orthotopic Liver Transplants. Cureus (): e. doi:10.7759/cureus.
Okeke, R., Saliba, C., Phocas, A., Schmidt, E. M., Keranalli, P., Hallcox, T., . . . Blewett, C. (2022). Transluminal stenting: An intraoperative adjunct for preserving bowel length in the surgical management of necrotizing enterocolitis. Journal of Pediatric Surgery Case Reports, 84, 102377. https://doi.org/10.1016/j.epsc.2022.102377
Almajali, F., Farley, L., Sakach, J., Phocas, A. J., & Pieper, M. (2022). Surgical Management of Emphysematous Gastritis in a Postpartum Female: A Case Report and Literature Review. Cureus, 14(11), e31595. https://doi.org/10.7759/cureus.31595