Rebollo Salazar, Daniella
Daniella Rebollo Salazar, MD, MPH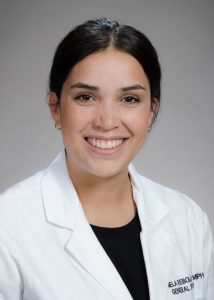 Hometown:
Caracas, Venezuela
Graduate School:
Pennsylvania State University
Medical School:
New York University
Bio:
I grew up in Caracas, Venezuela and moved to the U.S. to go to college at Penn State. I then went straight to medical school at NYU where I spent 5 years pursuing a dual MD/MPH degree. I'm passionate about addressing health disparities and global surgery research – I've worked in Ghana and Ethiopia looking at surgical outcomes and safe surgery/anesthesia practices. I chose UW because of its excellent clinical training and history with global surgery initiatives, as well as the opportunity to live on the West Coast – I'm excited to explore the Pacific Northwest! I love dogs, music and art, biking, hiking, cooking, and trying new foods.
Personal Interests:
Drawing and painting, photography, traveling/backpacking, live music, art museums, cooking, biking, hiking, yoga
Clinical Interests:
General surgery, trauma surgery
Publications:
Daniela Rebollo Salazar, Anna Velez-Rosborough, Charles DiMaggio, Michael Klein, Cherisse Berry, L. Krowsoski, Spiros Frangos, Marko Bukur (2020). The Effect of Race and Insurance on Management and Outcome Disparities in Thoracic Trauma. Poster presentation at the 15th Annual Academic Surgical Congress, Orlando, FL, 32830, 4th February 2020.
Gyedu, A., Gaskill, C. E., Agbedinu, K., Rebollo Salazar, D., & Kingham, T. P. (2018). Surgical oncology at a major referral center in Ghana: Burden, staging, and outcomes. Journal of surgical oncology.
Rebollo Salazar, D. (2018). Are Latino Cultural Beliefs Increasing Antibiotic Resistance in the US? Clinical Correlations, The NYU Langone online Journal of Medicine.