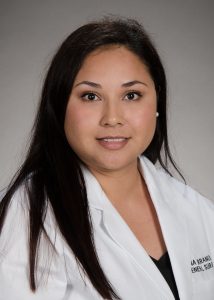 Resident Bio:
I was born in Los Angeles but spent my childhood in rural Mexico. Before moving to Seattle, I lived in Northern California, where I completed my undergraduate and medical education. My desire to ameliorate the negative social and structural forces that disproportionately affect the health of communities of color led me to pursue a Master's in Public Health. Through research and patient advocacy, I hope to improve surgical care access and delivery for patients with limited English proficiency. The excellent clinical training, diverse research opportunities, and my inspirational co-residents made UW the perfect fit for me.
Personal Interests:
Cooking, Chicano/Latin American literature, spending quality time with family and friends
Clinical Interests:
Trauma, critical care, acute care surgery
Professional Activities:
Publications:
Serrano, E., Liu, P., Nwabuo, A., Langness, S. and Juillard, C. The effect of cirrhosis on trauma outcomes: A systematic review and meta-analysis. Journal of Trauma and Acute Care Surgery. 2020 Apr;88(4):536-545.