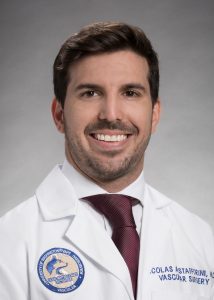 Hometown:
Buenos Aires, Argentina
Medical School:
Instituto Universitario Cemic
Bio:
I was born and raised in Buenos Aires, Argentina. I moved to the United States to pursue full-time training at the University of Washington.
Personal Interests:
Soccer, hiking, snowboarding, surfing.
Clinical Interests:
Vascular Trauma, Complex Aortic Disease, Ruptured Abdominal Aortic Aneurysms, Health disparities within Vascular Surgery
Professional Activities:
SVS resident member
ACS resident member
VESS candidate member
Why UW?
UW offers excellent mentorship, extensive research opportunities, and complete well-rounded clinical training.
What advice do you have for incoming interns?
Rember that the patients come first. Then work hard and stay positive.
What do you like best about living in Seattle?
Outdoor activities
Publications:
Nicolas A. Stafforini, Niten Singh, Jake Hemingway, Benjamin W. Starnes, Nam T. Tran, Elina Quiroga. Re-evaluating the need for routine coverage of the Left Subclavian Artery in Thoracic Blunt Aortic Injury. Annals of Vascular Surgery: 2020 Dec 31; S0890-5096 (20) 31110-9 doi: 10.1016/j.avsg.2020.12.007
Nicolas A. Stafforini, Matias Czerwonko, Niten Singh., Elina Quiroga, Benjamin W. Starnes.   Management of an aortoenteric fistula in a patient with End Stage Renal and Liver Disease, Prior Endovascular Aortic Repair With type II Endoleak. Journal of Vascular and Endovascular Surgery: 2021 March 29 ;15385744211004649. doi: 10.1177/15385744211004649