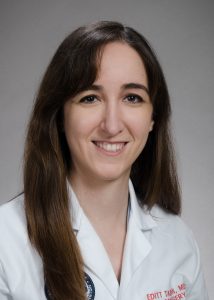 Email:
Hometown:
Glendale, CA
Undergraduate School:
University of California, Los Angeles
Medical School:
Mayo Clinic Alix School of Medicine
Resident Bio:
I attended the University of California, Los Angeles and received my Bachelor's degree in Neuroscience in 2013. I then went on to study for a Master's degree in Global Medicine at the Keck School of Medicine of USC in 2014. I spent the next two years working as Program Coordinator for a global health nonprofit organization called Mending Kids, who provide children worldwide with critical surgical care which they otherwise lack safe access to. I earned my medical degree from the Mayo Clinic Alix School of Medicine in Rochester, MN in 2020. My specific interests include plastic and reconstructive surgeries for congenital malformations and pediatric traumas, with a special interest in global surgery training and education in developing countries.
Personal Interests:
Travel, cooking and baking, dance, piano
Clinical Interests:
Pediatric plastic and reconstructive surgery, global surgery training and education
Professional Activities:
Why UW?
I knew that at UW I would get high volume exposure to a very diverse patient population as well as work with co-residents and faculty who made work feel like a family and truly cared about supporting one another.
What advice do you have for incoming interns?
Work hard but when you have days off take time to explore Washington!
What do you like best about living in Seattle?
I love the accessibility of fun things to do in the city and great restaurants, water activities, hiking, and beautiful views of the mountains every day going to and from the hospital.
Publications:
Banuelos J, Nehring SA, Abu-Ghname A, Nikoyan E, Martinez-Jorge J, Manrique O, Nguyen MT, Moran SL, Jakub JW, Hieken T, Sharaf B. Abstract QS26: NSQIP for Monitoring Outcomes after Implant-Based Breast Reconstruction: is it enough? PRS Global Open. 2019 Apr; 7(4 Suppl): 120.
Banuelos J, Taslakian EN, Nguyen MT, Manrique OJ, Tran NV, Martinez-Jorge J, Hieken T, Jakub J, Habermann EB, Sharaf B. The American College of Surgeons National Quality Improvement Program Incompletely Captures Implant-Based Breast Reconstruction Complications. Annals of Plastic Surgery. 2020 Mar; 84(3):271-275.
Asaad M, Wahood W, Banuelos J, Taslakian EN, Vyas KS, Meaike J, Sharaf BA. Eyebrow Height Changes with Aging: A systematic review and meta-analysis. PRS Global Open. 2019 Sep 30;7(9):e2433.
Rajesh A, Taslakian EN, Bawadkji M, Alhamid A, Tarzi M. Where Do We Look? Assessing Gaze Patterns in Cosmetic Facelift Surgery with Eye Tracking Technology. Plastic and Reconstructive Surgery. 2019 Dec 2. doi: 10.1097/PRS.0000000000006436.