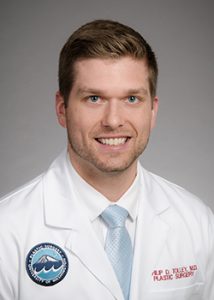 Email:
Hometown:
Salem, OR
Undergraduate School:
Oregon State University
Medical School:
UT Southwestern Medical Center- Dallas, TX
Resident Bio:
I was born in Red Deer, Alberta, Canada, and moved to Salem, OR at the age of 5. I grew up playing sports year round and to that end received my undergraduate degree in Exercise and Sports Science-Athletic Training at Oregon State University where I worked as a student athletic trainer with the football, women's basketball and crew teams. I moved to Dallas, TX for medical school and graduated from UTSW in 2018 where my love for plastic surgery began. I chose the UW Plastic Surgery Program due to its amazing clinical volume in microsurgery, hand surgery and craniofacial surgery, large catchment area, and the amazing faculty and co-residents that foster an unparalleled work and learning environment.
Personal Interests:
All things sports, skiing, cycling (road and Peloton), hiking/camping, and spending time with my family.
Clinical Interests:
Microsurgery (post traumatic/oncologic), hand and upper extremity, craniofacial trauma and surgical education
Publications:
Hembd A, Nagarkar P, Perez J, Gassman A, Tolley P, Reisch J, White CL, Rozen SM. Correlation Between Facial Nerve Axonal Load and Age and its Relevance to Facial Reanimation. Plastic & Reconstructive Surgery. 139(6):1459-1464, June 2017.
Zabojoba J, Thrikutam N, Tolley P, Perez J, Rozen SM, Rodriguez A. Relational Anatomy of the Mimetic Muscles and its Implications on Free Functional Muscle Inset in Facial Reanimation. Annals of Plastic Surgery. 81(2): 203-207, Aug 2018
Zhang S, Hembd A, Ching CW, Tolley P, Rozen SM. Early Masseter to Facial Nerve Transfer May Improve Smile Excursion in Facial Paralysis. Plastic Surgery Global Open. 6(11): e2023, Nov 2018