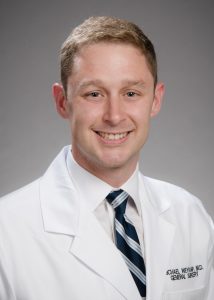 Email:
Hometown:
Grand Rapids, MI
Undergraduate School:
University of Washington
Medical School:
Duke University School of Medicine
Additional Education:
University of Michigan
Resident Bio:
General surgery resident with research interests in trauma surgery, pre-hospital care of injured patients, and hemorrhagic shock.
Personal Interests:
Hiking, Camping, Boating, Michigan Football, Duke Basketball, and exploring the Pacific Northwest
Clinical Interests:
Trauma, critical care, shock, pre-hospital trauma care, combat surgery, ECMO
Professional Activities:
American College of Surgeons, Resident Member
Why UW?
UW has an incredible balance of high acuity trauma/critical care at Harborview, sub-specialized surgical oncology and minimally invasive surgery at the University & Seattle Children's, as well as access to bread and butter general surgery at our Northwest, VA, and Valley Medical Center campuses. The breadth of clinical experiences along with the access to collaborate with internationally known researchers makes our program the most balanced academic general surgery residency program in the country.
What advice do you have for incoming interns?
0.38 pens
What do you like best about living in Seattle?
Being able to walk to bars and restaurants and be on the water or in the mountains in under thirty minutes.
Publications:
Nikolian VC, Dennahy IS, Weykamp M, Williams AM, Eidy H, Ghandour M, Chang P, Chtraklin K, Jarpe M, Li Y, Alam, HB. Isoform 6-selective histone deacetylase inhibition reduces lesion size and edema following traumatic brain injury and hemorrhagic shock. Journal of Trauma and Acute Care Surgery. February 2019. PMID: 30399139
Weykamp M, Nikolian VC, Dennahy IS, Higgins GA, Georgoff PE, Remmer H, Chang P, Eidy H, Ghandour MH, Alam HB. Rapid Valproic Acid-Induced Modulation of the Traumatic Proteome in a Porcine Model of Brain Injury and Hemorrhagic Shock. Journal of Surgical Research. August 2018. PMID: 29907235
Chang P, Weykamp M, Dennahy IS, Williams AM, Bhatti UF, Liu B, Nikolian VC, Li Y, Alam HB. Histone Deacetylase Inhibitors: Isoform Selectivity Improves Survival in a Hemorrhagic Shock Model. Journal of Trauma and Acute Care Surgery May 2018. PMID: 29401190
Korley FK, Nikolian VC, Williams AM, Dennahy IS, Weykamp M, Alam HB. Valproic Acid Decreases Serum GFAP and UCH-L1 Level in Swine Subjected to Traumatic Brain Injury. Journal of Neurotrauma. May 2018. PMID: 29415612
Nikolian VC, Dennahy IS, Higgins G, Williams AM, Weykamp M, Georgoff PE, Eidy H, Ghandour MH, Chang P, Alam HB. Transcriptomic Changes Following Valproic Acid Treatment Induce Neurogenesis and Minimize Secondary Brain Injury. Journal of Trauma and Acute Care Surgery. March 2018. PMID: 29251707
Ranney D, Al-Rawas N, Bonadonna D, Yerokun B, Mulvihill M, Weykamp M, Gunasingha R, Bartz R, Haney J, Daneshmand MA. Extracorporeal Membrane Oxygenation and Interfacility Transfer: A Regional Referral Experience. Annals Thorac Surg. November 2017. PMID: 28673618