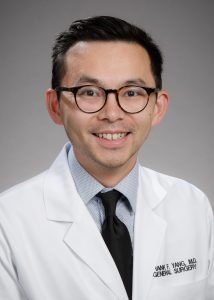 Email:
Hometown:
Carrollton, Texas
Undergraduate School:
University of Chicago
Medical School:
Stanford School of Medicine
Resident Bio:
I was born in Beijing and grew up in Dallas and have lived in Chicago, the SF Bay Area, and now Seattle. I'm interested in surgical oncology and am excited in the research and professional development opportunities at UW. When not busy with work, I'm hanging out with my partner Amy and our two adorable cats, Milan and Clarice.
Personal Interests:
Cooking, learning about wine, walking around the city, hiking, golf, spending time with family
Clinical Interests:
Surgical oncology, HPB
Professional Activities:
American College of Surgeons, member; American Surgical Congress, member