Investigator Profile: Suzanne M. Inchauste, MD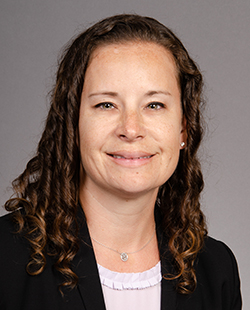 Suzanne M. Inchauste, MD



Assistant Professor, Division of Plastic Surgery
Dr. Inchauste is a plastic surgeon at UW Medicine's Center for Reconstructive Surgery and at Northwest Hospital Plastic and Aesthetic Surgery Center. She completed training in general surgery, surgical oncology and plastic surgery.  She specializes in reconstructive microsurgery, aesthetic surgery of the breast, face and body, lymphatic surgery and oncologic reconstruction.
Her research interests include clinical outcomes in breast microsurgery, oncologic reconstructive surgery, lymphatic surgery and aesthetic surgery. Her secondary research interest is in resident and global surgery education.
Inchauste SM, Zelones J, Deptula P, Nguyen D, Nazerali R, Lee GK, Global Health Microsurgery Teaching with Cell Phones, Ann Plast Surg. 2020 May; 84 (5S Suppl 4): S273-S277. Doi:10. 1097/SAP.0000000000002403. PMID: 32294075.
Inchauste SM, Zelones JT, Rochlin D, Nguyen DH, Successful Treatment of Lymphedema in a Vasculopath and Neuropathic Patient.  J Surg Oncol. 2020 Jan; 121(1):182-186. Doi: 10.1002/jso.25590. Epub 2019 Jun 22. PMID 31228351.
Rochlin D, Inchauste SM, Zelones JT, Nguyen DH, The Role of Adjunct Nanofibrillar Collagen Scaffold Implantation in the Surgical Management of Secondary Lymphedema: Review of the Literature and Summary of Initial Pilot Studies.  J Surg Oncol. 2020 Jan; 121(1):121-128. Doi: 10.1002/jso25576. Epub 2019 Jun 18. Review. PMID 31209884.
Inchauste SM, Yalamanchili, S, Morrison JM, Kitzmiller WJ, How to Grow a Resident Aesthetic Clinic in an Academic Center.  Plastic and Reconstructive Surgery – Global Open Journal, 2018 July; 6(7) e1823.  PMC6110669.
Inchauste SM, Rochlin DH, Zelones JT, Tzou CHJ, Chen MH, Nguyen D. Chapter: Animal Study and Cadaver Dissection of Lymphedema, Principles and Practice of Lymphedema Surgery (2nd Edition), Editor MW Cheng and K Petal, author service Elsevier, 2019.
Zelones JT, Inchauste SM, Nguyen D. Immediate Breast Reconstruction with Free Autologous Tissue Transfer.   In Breast Reconstruction, author service manager Knapic J. London, England: IntechOpen 2019.
Assadipour Y, Azoury SC, Schaub NN, Hong Y, Eil R, Inchauste SM, Steinberg SM, Venkatesun AM, Libutti SK, Hughes MB.  Significance of Pre-operative Radiographic Pancreatic Density in Prediciting Pancreatic Fistula after Surgery for Pancreatic Neuroendocrine Tumors.  American Journal of Surgery. 2016 July; 212(1):40-6. doi10.106. PMID: 26782807.
Xi S, Inchauste S, Guo H, Shan J, Xiao Z, Xu H, Miettenen M, Zhang MR, Hong JA, Raiji MT, Altorki NK, Casson AG, Beer DG, Robles AI, Bowman ED, Harris CC, Steinberg SM, Schrump DS, Cigarette smoke mediates epigenetic repression of mi217 during esophageal carcinogenesis. Oncogene. 2015 Feb 23. doi: 10.1038/onc2015.10. PMID: 25703328.
Zhang Y, Calado R, Rao M, Hong JA, Meeker AK, Dumitriu B, Atay S, McCormick PJ, Gargield SH, Wangsa D, Padilla-Nash HM, Burkett S, Zhang M, Kunst TF, Peterson NR Xi S, Inchauste S, Altorki NK, Casson AG, Beer DG, Harris CC, Ried T, Young NS, Schrump DS. Telomerase variant A279T induces telomere dysfunction and inhibits non-canonical telomerase activity in esophageal carcinomas.  PLoS One 2014 Jul 1;9(7):e101010. PMID: 24983628.
Alvarez-Downing MM, Kushal N, Inchauste, SM, Pandalai P, Sherry R, Heller T. The Role of Surgery in the Management of Patients with Refractory Chronic Granulomatous Disease Colitis. Diseases of the Colon and Rectum Journal. 2013 May; 56(5): 609-14.  PMID: 23575400.
Xi S, Xu H, Shan J, Tao Y, Hong JA, Inchauste S, Zhang M, Kunst TF, Mercedes L, Schrump D.  Cigarette smoke mediates epigenetic repression of miR-487b during Pulmonary Carcinogenesis.  Journal of Clinical Investigation. 2013 March 1; 123(3): 1241-1261.  PMID: 23426183.
Alvarez-Downing MM, Inchauste SM, Dudley M, White D, Wunderlich JR, Rosenberg SA, Kammula US. Minimally invasive liver resection to obtain tumor infiltrating lymphocytes for adoptive cell transfer in patients with metastatic melanoma. World Journal of Surgical Oncology.  2012 Jun 22; 10:113.  PMID: 22726267.
Inchauste SM, Lanier BJ, Libutti S, Phan G, Nilubol N, Steinberg SM, Kebebew E, Hughes MS. Rate of Clinically Significant Post Operative Pancreatic Fistula in Pancreatic Neuroendocrine Tumor.  World Journal of Surgery. 2012 June; 36(7): 1517-1526. PMID: 22526042.
Kemp C, Rao M, Xi S, Inchauste SM, Mani H, Fetsch P, Killian K, Walker R, Zhu J, Liu F, Ripley RT, Hong JA, Zhang, Mathur A, Yang M, Marquez V, DeRienzo A, Bueno R, Schrump DS.  Polycomb Repressor Complex-2 is a Novel Target for Mesothelioma Therapy. Clinical Cancer Research. 2012 Jan 1; 18(1): 77-90.  PMID: 22028491.
Xi S, Yang M, Tao Y, Xu H, Shan J, Inchauste SM, Zhang M, Mercedes L, Hong JA, Rao M, Schrump DS, Cigarette smoke induces C/EBP-β mediated activation of miR-31 in normal human respiratory epithelia and lung cancer cells.  PLoS One. 2010 Oct 29; 5(10).  PMID: 21048943.
Zhang Y, Calado R, Rao M, Hong J, Meeker A, Bogdan D, Atay S, Mccormick P, Garfield S, Wangsa D, Padilla-Nash H, Burkett S, Zhang M, Kunst T, Peterson N, Xi S, Inchauste SM,  Altorki N, Casson A, Beer D, Harris C, Ried T, Young N, Schrump DS.  Telomerase Variant A279T Induces Telomore Dysfunction and Inhibits Non-Canonical Telomerase Activity in Esophageal Carcinomas.  Manuscript submitted to PLoS One on August 20, 2013.