Research Resident Past Projects 2017-2019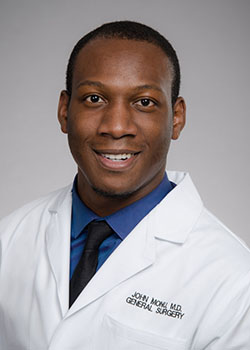 John Monu, MD, 2017-2019
Dr. Monu completed the two-year NIDDK-funded T32 fellowship in Gastrointestinal Surgical Outcomes Research at the Surgical Outcomes Research Center (SORCE). He was mentored by Dr. David Flum, Professor in the Division of General Surgery and Dr. Farhood Farjah, Associate Professor in the Division of Cardiothoracic Surgery. Dr. Monu's research spanned a variety of areas, including lung cancer screening, small bowel obstruction, comparative effectiveness, and behavioral economics. Additionally, Dr. Monu received his Master of Public Health at the University of Washington to improve his knowledge of research methodology. After completing his general surgery residency, he intends to complete a fellowship in and practice as a cardiothoracic surgeon.
Veeshal Patel, MD, MBA, 2017-2019
Dr. Patel spent two years as a research fellow at the University of California, San Francisco, in the Department of Surgery and Surgical Innovations Program under the mentorship of Dr. Michael Harrison, Professor Emeritus of Surgery, Dr. Hanmin Lee, Professor and Chief of the Division of Pediatric Surgery, and Dr. Shuvo Roy, Professor of Bioengineering. His research was funded by a National Institute of Biomedical Imaging and Bioengineering (NIBIB) R25 grant and an NIH SBIR grant. As a Surgical Innovations Fellow, Dr. Patel focused on medical device development across a number of bioengineering and translational medicine projects. He led the development and first-in-human uses of a novel magnetic compression anastomotic device for biliary strictures and esophageal atresia. Additionally, he led a key preclinical study to evaluate the utility of a Magnetic Duodenal-Ileal Bypass (DIPASS) in nonhuman primates for metabolic effects, specifically the translational validity of a new, minimally invasive bypass procedure for the treatment of Type 2 Diabetes. He additionally is one of the co-inventors of a new device for cortical mapping during the resection of brain tumors. In addition, Dr. Patel further developed technology for a new treatment and surgical procedure for obstructive sleep apnea, methods for sealing the amniotic membrane, and less invasive therapies for the treatment of pectus excavatum. Through this work, he has received three grants for ongoing development of these initiatives while presenting at a number of national and international conferences and earning a top 5 basic science abstract at the Northern California Chapter of the American College of Surgeons and winning the "Shark Tank" competition for new devices at the Rocky Mountain Hospital for Children International MIS and Surgical Innovation Conference. Dr. Patel plans pursue a career in academic trauma surgery and critical care at safety-net hospitals, while continuing ongoing work in medical device development, innovation in surgery, and public health.
Kate Stadeli, MD, 2017-2019
Dr. Stadeli is a trainee in the NIDDK-funded T32 fellowship in Gastrointestinal Surgical Outcomes Research at the Surgical Outcomes Research Center (SORCE) under the direction of Dr. David Flum, Professor in the Division of General Surgery. Her research will focus on health disparities and patient reported outcomes in variety of surgical populations and settings, including patients with diverticulitis, appendicitis, and traumatic injuries. She will also examine current opioid use and abuse patterns in trauma patients with the aim to identify patients at highest risk for abuse and areas for intervention. During her two year fellowship, Dr. Stadeli will also be enrolled at the University of Washington to complete a Master's in Public Health with a focus in Health Services. She plans to eventually pursue a fellowship in trauma, critical care, and acute care surgery.
Kevin Sullivan, MD, 2017-2019
Dr. Sullivan is a Cancer Research Institute/Fibrolamellar Cancer Foundation Fellow working with Drs. Venu Pillarisetty, Associate Professor in the Division of General Surgery, Raymond Yeung, Professor in the Division of General Surgery and Kimberly Riehle, Associate Professor in the Division of Pediatric General Surgery. Techniques used by this team, such as multiplex immunohistochemistry, have shown that hepatic and pancreatic tumors consist of a suppressed immune environment rather than a "desert" immune environment.  His research is broadly aimed at reversing the immunosuppressive microenvironment within such tumors including fibrolamellar hepatocellular carcinoma, colorectal cancer liver metastasis, pancreatic adenocarcinoma, and pancreatic neuroendocrine tumors. He is currently utilizing a tumor slice culture model of resected human tumors to block suppressive interleukins, chemokine receptors, or checkpoint molecules such as PD-1. Using many methods to probe the effects of treatment within the tumor slices including immunohistochemistry, single cell RNA sequencing, and live microscopy, the reaction of both immune cell populations and tumor cells to the manipulation of the microenvironment can be evaluated. Dr. Sullivan has presented his work at the American Association for Cancer Research 2019 Annual Meeting in Atlanta, GA. He plans to pursue a fellowship in surgical oncology.