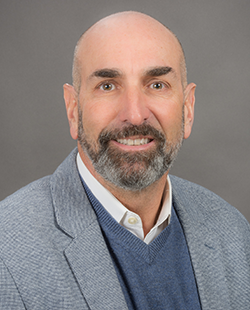 David R. Flum, MD, MPH, FACS
Vice Chair for Research
Dear Prospective Residents,
We are excited that you're considering the University of Washington for your residency. This is a dynamic department that offers comprehensive training in both the clinical practice of surgery and other components of professional development that will help you be successful in the years ahead. For many of you that involves research. The Department of Surgery aims to be the premier home for surgical research. We strive to do research that is innovative, collaborative, and impactful and we are consistently ranked as one of the top programs in the nation for NIH and extramurally funded research. We look forward to you being a part of research during your training.
There are many research training and practice opportunities for you to participate in during your years here. The Department has two NIH–sponsored T32 research training programs: one in basic science (led by Grant O'Keefe, MD) and one in clinical and health services research led by faculty at the Surgical Outcomes Research Center (SORCE). Beyond these training programs, the Department includes a group of investigators eager to work with you in their labs and many other faculty around the School of Medicine who enjoy collaborating with surgical research fellows. No matter the path you choose for research, we are committed to helping you develop as a researcher and supporting you in your career development as surgeon–scientists.
Research in the Department of Surgery is organized into 10 cores: Injury, Burn, and Inflammation; Cancer; Reperfusion; Transplant; Device and Pharmaceutical Clinical Trials; Vascular Biology; Gastrointestinal Physiology and Metabolism; Simulation and Education; Global and Rural Health; and Health Services. Each of these cores includes faculty with substantial experience who are excited to work with you in short–term research projects as well as longer research fellowships.
This publication highlights the work of residents, most who are currently undertaking two–year research fellowships. You can learn more about all resident research opportunities by visiting the research section of the Department of Surgery website. There you will find investigator profiles, information about our many research labs and centers, abstracts from the most recent Schilling Research Symposium, and much more.
We hope you will join us in pursuing research during your time as a surgical resident and welcome you to be part of what we believe is the premier home for surgical research.
Sincerely,
David R. Flum, MD, MPH, FACS
Professor of Surgery, Adjunct Professor, Pharmacy and Health Services
Vice Chair for Research, Department of Surgery
University of Washington
2023 Research Resident Brochure