Investigator Profile: Joseph Cuschieri, MD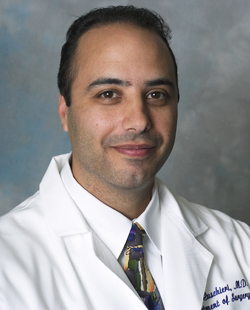 Joseph Cuschieri, MD
Professor, Division of Trauma, Burn, and Critical Care Surgery
Adjunct Professor of Orthopaedics and Sports Medicine
Adjunct Professor of Neurosurgery
Program Director Surgical Critical Care Fellowship, University of Washington
Director of Surgical Critical Care, Harborview Medical
Severe injury results in the activation of the innate immune system characterized by the systemic inflammatory response syndrome (SIRS). Although this state may persist, resulting in early development of multiple organ dysfunction syndrome (MODS), the majority of injured patients develop a compensatory response that is characterized by a state of dysregulated immune responsiveness. During this state of dysregulated responsiveness, patients are at increased risk for the development of opportunistic or nosocomial infection and the development of multiple organ dysfunction syndrome (MODS).
The mechanism responsible for this dysregulated immune activation remains poorly understood. Although previous theories have centered on a "two-hit" hypothesis, we have been able to demonstrate that this dysregulation in immunity occurs rapidly following the onset of injury.   This immune dysregulation is critically influenced by both the peripheral blood monocyte and tissue-fixed macrophage. The primary mechanism in which these cells interact with damage singles and microorganisms liberated following injury is through the Toll-like receptors (TLRs), a family of pattern recognition proteins. Activation of these receptors by inflammatory factors, such as lipopolysaccharide (LPS), leads to the liberation of various cytokines and chemokines that are in part responsible for eradication of invading organisms and minimizing host injury. However, when exaggerated, as is the case following severe injury, liberation of the factors leads to subsequent tissue injury and the development of MODS. The mechanism in which the TLRs are activated and affected by severe injury remains an area of intense investigation.
We have demonstrated that activation of the TLRs, in particular TLR4, requires the formation of a receptor complex with CD14 and other constituents on specialized membrane components termed lipid rafts. In particular, attenuation and augmentation of this receptor complex formation on these membrane platforms results in dysregulated inflammatory mediator liberation.
Interestingly, this dysregulated immunity is not simply limited to the initial onset and first few days following injury. Rather, it appears that a sustained alteration due to a number of genetic factors occurs. These genetic alterations are most pronounced in patients suffering from severe acidosis and hypothermia. As a result, it appears that these patients suffer from sustained immune dysfunction resulting in increased risk for a number of long term inflammatory complications including infection and progressive organ dysfunction. It is thus the focus of my ongoing research to unravel this sustained long term alteration in immune dysfunction that occur for years following injury, and thus classify trauma as an acute onset of a chronic disease.